Brick Campaign
The Watsonville Fire Department Chief Gene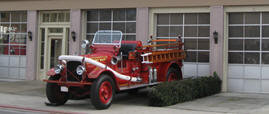 Friend Fire Museum needs your help. We are undertaking a slightly different fundraising approach in which you can contribute and help us build a very nice brick area adjacent to our Museum at 105 Second Street, Watsonville, CA 97576.
The museum offers you an up close and personal view of the apparatus and protective equipment used by the Watsonville Fire Department beginning in the late 1800's and continuing to the present day. Our two-story museum was constructed in the mid- to l

ate 1920's and houses a variety of fire department memorabilia. The ground floor is our "apparatus deck", where we have 5 pieces of rolling fire equipment including a 1915 Seagrave Engine, 1928 Seagrave Engine and Ladder Truck, 1959 Seagrave Open Cab Engine as well as a 1967 Crown Fire Coach Engine. All of these pieces are in working order and it has taken much time and effort to maintain them.
Your contribution will enable the Watsonville Firefighters' Association, to continue promoting the history of the fire service in our area as well helping to maintain the equipment and inventory we have in our museum.
Your purchase of a brick is a great way to show support and preserve the history of the Watsonville Fire Department.
Note: If you wish to have a custom logo engraved on an 8x8 brick, please select the option below and email the logo to: edbanks@kbkinsurance.com