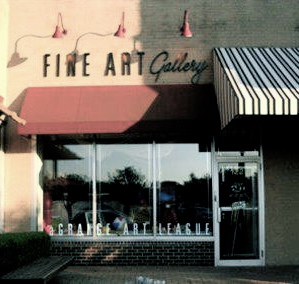 Capital Campaign for The La Grange Art League
The La Grange Art League provides the means for the study, mutual improvement, and interest of its members in the visual fine arts, and promotes art awareness and appreciation in the community.
In 1933, a group of local artists founded the La Grange Art League. The Art League had a vision to provide arts education and an opportunity for local artists to meet and showcase their work. By 1984, they raised enough money to purchase the building at 122 Calendar Ave. in La Grange. The building allowed the League to create a gallery, teach classes, and offer framing services.
Currently we have a community of over 200 members that create and exhibit paintings, pottery, photography, textile art, and jewelry.
Building on our vision, we plan to ensure that the La Grange Art League Gallery and Studio remains vital for the next 80 years and beyond.
Preserving the Past
The LaGrange Art League has a rich history of connecting the community to talented local artists like Charles Vickery, Ed Shaver, Alla Jablokow, and Jessie Minich. We are an important repository of Vickery memorabilia and artwork. Maintaining the building and archiving our memorabilia is an important role for the Art League.
Community Outreach
The La Grange Art League provides vital services to the community. Adult and children's classes are offered. We host local field trips. Middle school art students participate in a special exhibit and experience the pride of showing in a real gallery. We award scholarships to local high school students to attend the Art Institute of Chicago and the American Academy of Art.
The Art League also promotes art in the community. We bring in nationally recognized artists for our monthly demos and workshops. We also spread art into the neighborhood by displaying at local businesses and sponsoring summer art installations.
Goal of the Campaign
Our goal is to raise $100,000 to Preserve our building and archives, Update our classrooms and gallery and Create a larger art community.
You can leave your legacy or memorialize a loved one or special event with a commemorative brick. Your brick will be installed in the courtyard in front of the Art League, and your support will help ensure the longevity and vitality of the League Gallery and Studio.