Announcing
The Christian Berets "Brick-Buy-Brick"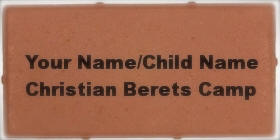 By this fall, many of the newly laid 3,000 bricks in the Sunflower Amphitheater will bear the names of campers, counselors, sponsors and supporters of Christian Berets Camps & Programs for Special Needs Conference and Retreat Center. For a modest sum, we invite you to leave a legacy by purchasing one or more commemorative bricks. Funds raised will enable less fortunate special needs folks to attend camp and help us make improvements that will benefit all campers retreat and conference guests!

Dedicating a brick costs $75 (4x8") or $150 (8x8)
You may order as many bricks as you want.

If you have any questions, please call (209) 524-7993.