DON'T MISS THIS OPPORTUNITY TO BECOME A PERMANENT FOOTNOTE IN CCT HISTORY!
The Combat Control School Association (CCSA), working together with the CMSgt Alicide S. "Bull" Benini Heritage Center seeks your support of this historic fund raising project.
The Benini Heritage Center (BHC) is a museum of CCT exhibits and artifacts. It is an integral part of the Air Force Combat Control School (CCS) at Pope AFB, NC. Out front of the CCS are additional exhibits, including the Fallen CCT Warrior Monument. The monument sits adjacent to the flag pole. The memorial bricks installation plan calls for extending the walkway around the base of the flag pole. It is shown in the ground-breaking configuration above. Two-hundred bricks are required for the ground breaking and first laying of bricks. As of June 2009, fewer than 100 bricks had been ordered. The long-term goal is to fill the entire green grassy area at the center of the circle drive. (See an overview of the CCS campus in the graphic at top.)
LARGE CCT BRICK SAMPLE >>>>>

This is large memorial brick ordered by a group of retired Chief Master Sergeants

for a former leader and friend. Prices are $50 for a small (4" x 8") brick and $250

for a large (8" x 8") brick – shown here. See side-by-side samples of both below.

FORMATTING YOUR BRICK
· Small – 3 lines, 18 characters each.
· Large – 6 lines, 18 characters each.
ORDERING YOUR BRICK: To order your brick follow the prompts on the form below. It will aid you in designing and ordering your custom-made brick.
PAYING FOR YOUR BRICK: When you have completed your brick order, mail your donation, in the form of cash; check or money order (written to CCSA) to the Combat Control Historical Foundation, 302 Stacy Weaver Drive, Fayetteville, NC 28311.
NOTES: 1. Your order will not be processed until your payment is received by the CCA. 2. DO NOT pay Bricks 'R Us.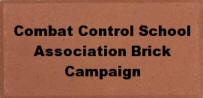 <![if !mso]><![endif]>
DONATIONS: Proceeds from the sale of memorial bricks will fund future historical projects at the Benini Heritage Center