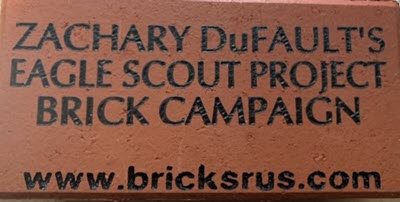 Zachary DuFault's Proposed Eagle Scout Project.
I am currently a Life Scout with Troop 73 from West Cape May, New Jersey.
My Eagle Scout Project is to build a Cape May County United States of America Flag Retirement Ceremony Station.
The United States of America flag is very symbolic in design. The stripes represent the original 13 Colonies and the stars represent the 50 states of the UNION. The colors of the flag are symbolic as well; red symbolizes hardiness and valor, white symbolizes purity and innocence, and blue represents vigilance, perseverance, and justice. The United States of America flag is a symbol of honor and respect to the men and women that protect our freedom everyday and have died for our freedom.

The Flag retirement is the term used to define the proper, dignified way of destroying United States Flags that are no longer fit to serve. The United States Flag Code, Title 4, Section 8k states"-"The flag, when it is in such condition that it is no longer a fitting emblem of display, should be destroyed in a dignified way, preferably by burning."
To honor all of these men and women, our flag should be retired properly and with respect. Currently, Cape May County does not have a permanent Ceremony Station that organizations like the veteran's, local municipalities, schools, or boy scout troops could host proper retirement ceremonies for our flags. Flag retirements are currently done unceremoniously at local beach bonfires or in metal trash cans. I would like to build a proper ceremony fire pit area with a flagpole and benches in Cape May County.

Please consider supporting this project. Dedication Bricks are $50.00 and will be added to the ceremony location. For years, these bricks will serve as a reminder of your support of this project and love of the United States of America Flag.