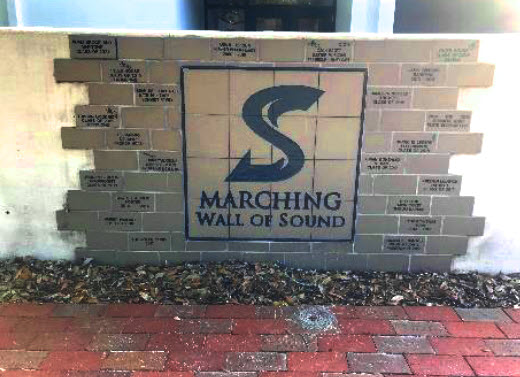 Wall Of Sound Brick Program FAQ's
What does the $150.00 cover?
The $150.00 price covers 3 lines of engraved text. Each line can accommodate 18-character spaces.
Any period, comma, dash or space is considered 1 character. All bricks will be engraved in all caps and centered horizontally and vertically
Can we add some flair to the message we choose?
YES!! On the order form there are some musical stock symbols available for $10.00 extra. They are great additions that add some flair and uniqueness. Keep in mind that each symbol will take up 4 additional character spaces on lines 1 and 2. So plan out your design to accommodate the need for those spaces.
When do we have to have the form and payment turned in by?
The main order and contracted labor installation depend on the number of orders received. Therefore, the sooner we collect the orders and payment, the quicker we can contract the manufacturer and installation of the brick pavers.
THEY MAKE AWESOME CHRISTMAS GIFTS AND GRADUATION PRESENTS!!!!
Who do I contact if I have any additional questions?
Please feel free to contact Mikaela Dedios by email at any time.
Mikaeladedios2021@gmail.com
Please allow a minimum of 24 hours response time per request.