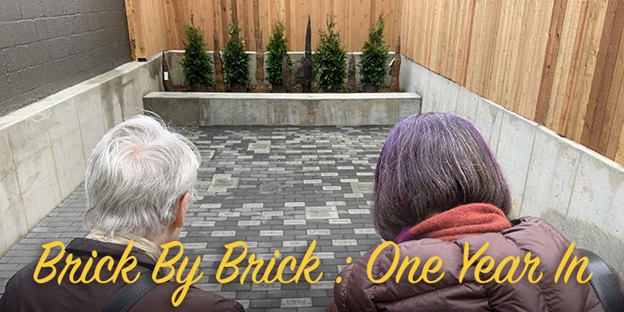 PAVE THE WAY WITH US!
Celebrating the opening of our new home on April 8th, 2023 feels like yesterday. Yet here we are, one year into this amazing journey with all of you.
Our new homeís foundation was built, brick by brick, from the ground up with the support of our community. Since our opening we have welcomed more than 1400 students, run our kilns for 2600 hours, and invited countless community members to workshops, private events, fundraisers, and festivals.

It took an incredible amount of support to get us to this point. We are grateful to you, our community - new and continuing - for your steadfast belief in The Clay Studio. As we mark one year of successful operations, I am asking you to consider celebrating this milestone by adding another brick to our foundation.
Today, I am asking you to carve your message in stone with the purchase of a brick paver for our sculpture garden.
Please claim your spot as a member of our family by getting your name or message engraved on a brick paver. Your support will become part of The Clay Studioís beautiful outdoor sculpture garden. Your paver will line the garden and walkway becoming a permanent addition to our foundation.

Know that with this brick you are helping to further our shared commitment of providing the necessary support and tools for the advancement of ceramicists and ceramic arts across our entire community. If you have questions about this campaign please email Tunde Peters, Development Assistant, at tpeters@theclaystudio.org

We are so grateful for your generosity, our foundation isnít strong without your support.
Thank you!

Jennifer Martin
Executive Director
The
Clay
Studio
P.S. The last day to purchase pavers is May 31, 2023 and you can expect to see all your wonderful additions to the sculpture garden in the Fall.