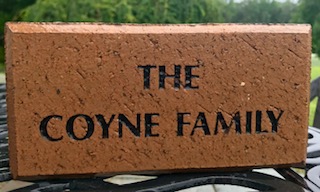 Country School students need your help!
The Safety Enhancement Project - a highly researched and vetted undertaking - is underway! The Board of Trustees and the School Safety Committee actively secured the latest security technology on campus, while ensuring buildings, fields, and playgrounds are subtly protected places of tranquility for student exploration. Upgrading student safety on campus in our indoor and outdoor learning spaces includes: installing protective, conspicuous night lighting in drop-off and pick-up areas; paving asphalt driveways to allow for line-striping and traffic pattern direction, and; delineating safety zones with high concrete curbing and sidewalks in robust traffic areas.
How to help:
Make a minimum gift of $100 to "buy your brick" today! All 4x8 bricks will be personalized with up to 3 lines with 18 characters per line. Bricks will encircle the flagpole, welcoming all visitors to campus.
This is a community effort.
Our students rely on generous donors to fund this project, so we are asking you to consider making a gift. Please know 100% of your donation will go toward completing this project and because we are an IRS non-profit organization all monetary donations are tax deductible. We would like to include as many students, alumni, families, friends, neighbors, and local community businesses as possible. Please feel free to share this email with them.
We invite you to "buy a brick" to:
« Honor a child
« Show your school spirit
« Dedicate a brick to a special teacher or loved one
« Honor a child's graduation
« Name your business
« Share a favorite quote or piece of advice