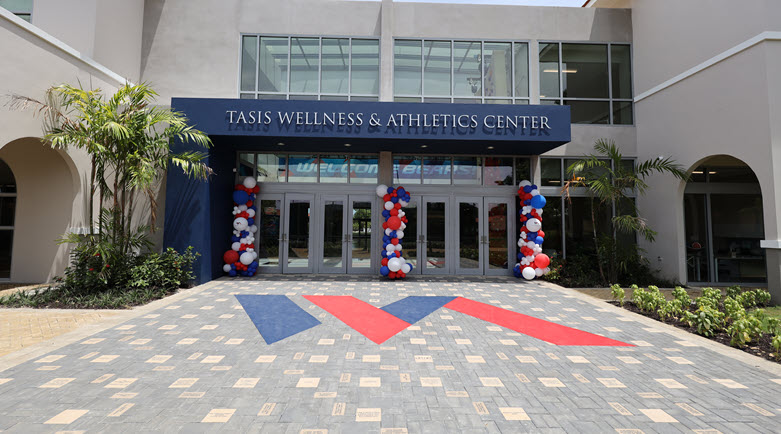 TASIS Dorado Wellness & Athletics Center Capital Campaign
Be a part of TD history!
Purchase a Personalized Brick for the TD Bear Trail
Establishing a Wellness & Athletics Center at TASIS Dorado has been a goal for many years. This new facility will lay the foundation for years of exciting competition and personal growth, while inviting our community to embrace and maintain a healthy lifestyle, focused on nutrition, physical activity, and mental health.
The venue will feature a state-of-the-art gymnasium with A/C, a rock climbing wall, physical fitness facilities, courts for basketball, volleyball, and futsal, as well as a dedicated space for our Wellness Program. An upgrade of surrounding areas is also part of the greater plan with a revitalized soccer field with a turf surface, track & field facilities, and two new playgrounds.
Despite extreme adversity in recent months, the TD Community has remained overwhelmingly generous and committed to the future of our school. Thank you to all of our supporters.
With approximately $200,000 left to raise, our final goal of $3M is within reach, and with your help, we can take action on the next phase of TASIS Dorado's Wellness & Athletics Center!
We invite our community members to lay the foundation for the main walkway leading to our new Wellness & Athletics Center by purchasing a customized brick for the TD Bear Trail. Starting Today through May 31, 2021, bricks can be purchased by an individual or group (single or multiple families; a class, team, or club; a group of alumni, parents or teachers; etc.) all in support of the Wellness & Athletics Center Capital Campaign.
Bricks are personalized to your liking and strategically placed in the walkway to the main entrance of the Wellness & Athletics Center, cementing your place in TD history.
Recognize a friend, hero, or relative; memorialize a loved one; commemorate a special occasion; promote a business; or honor a class, athletic team, club, or group of community members. The options are plentiful!
Community members can choose from two sizes:
LARGE BRICK:
8" x 8"
6 lines
18 characters per line

200 bricks available for purchase
$500
MEDIUM BRICK:
4" x 8"
3 lines
18 characters per line

400 bricks available for purchase
$250
Once again, we are grateful for your continued support and dedication to ensuring TASIS Dorado remains a world-class school that transforms lives. Your unwavering commitment further proves we are UNSTOPPABLE Together!
PLEASE USE THE "COMPANY" FIELD TO STATE YOUR AFFILIATION:
Primary Affiliation:

For questions, please contact the Advancement Office at advancement@tasisdorado.com.