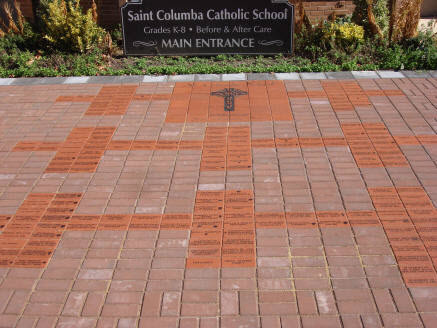 Create a lasting tribute to those who are part of the history of St. Columba School. We are sponsoring a brick campaign to create the St. Columba Square, to be paved with long lasting memorial bricks. The Square is to be located in front of the school office. All proceeds will go to benefit the St. Columba students and the school community.
Each brick will be personalized to your specifications with the inscription of your choice. Your brick could be in: remembrance of a loved one, or with your family name, the names of your children, graduating class, or with a special message. Logos are available at an additional cost. All lettering will be in capital letters and black fill.
The price of each brick is $60.00 for a 4x8 red brick. Symbols are available for an additional $10.00 (angel, celtic cross, heart, wedding bells, dove, flag).
Donít miss out on this opportunity to leave your permanent mark on St. Columba School.
You can begin by placing your order online or by downloading an order form from the school website at www.stccatholic.org .