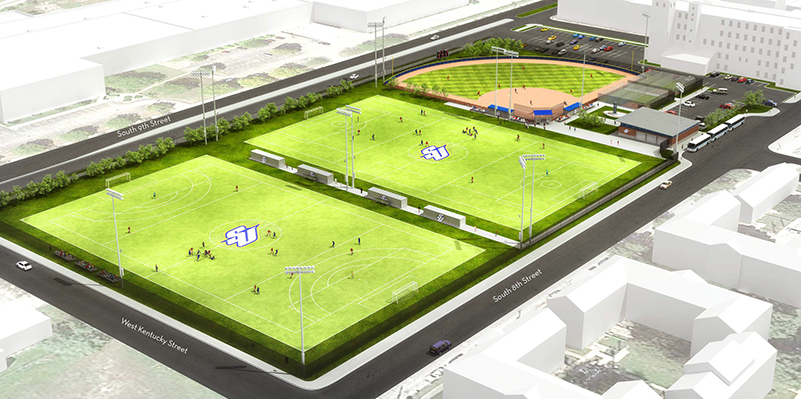 Located in the South of Broadway neighborhood, the Spalding University Athletic Field Complex will transform over seven acres of industrial property between S. 9th and S. 8th Streets stretching from W. Breckinridge to W. Kentucky into a green urban park that will serve the community as well as be home to Spalding's NCAA D-III soccer and softball teams.
Spalding is inviting you to become part of this transformational project, by purchasing either a commemorative brick that will be featured in the walk ways of the athletic complex or on a donor wall dedicated to the leadership givers that made these fields possible. Purchasing any of these commemoratives will not only create a lasting tribute to your impact on Spalding, our students and the South of Broadway community, but your gift will be matched 1:1 by a challenge grant from a generous anonymous foundation and donor. This means that if you purchase a commemorative brick for $250, the grant will donate an additional $250, doubling the impact of every brick sold.
Your support is the final push needed to start building the next phase of the project in early 2019.
Projects for this phase are intended to include:
• Softball field including fencing, two dugouts, bullpens and batting cage, seating and electronic scoreboard
• Two additional fields with NCAA required dimensions to support soccer, lacrosse, and field hockey, including lighting, fencing, electronic scoreboard, seating and team benches
• All three fields to be constructed using synthetic turf to allow for year round usage
For recognition options for gifts greater than $10,000 or if you wish to discuss making your gift through installments, please contact David Clark in the Office of Advancement directly dclark07@spalding.edu or 502-873-4316.