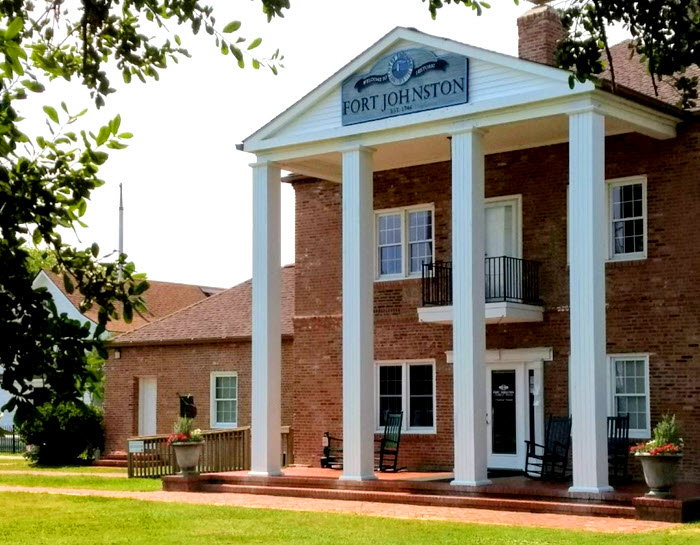 The Southport Historical Society, with the support of the City of Southport, has reopened orders for the popular Commemorative Brick Program. Commemorative bricks may be purchased in memory or recognition of a person, organization, or event of personal significance. The new bricks will be laid in the walkway in front of Ft. Johnston on the historic Southport waterfront.
Orders for personalized bricks will be taken through December 31st, 2020. Placement of the newly ordered bricks will be in early spring 2021 in front of the Ft. Johnston visitor's center.
The Southport Historical Society was organized in 1976 to preserve and interpret the unique history of Southport, North Carolina. Some of the programs initiated and supported by the society are:
• Sponsoring the annual Christmas Tour of Homes on the second Saturday each December.
• Identifying and installing plaques on historic buildings and properties.
• Operating and maintaining the extensive Susie Carson Online Research Room
https://sites.google.com/site/researchsouthporthistory/
• Provides historical memorabilia and displays for the Southport Museum at historic Ft. Johnston
• Cannon crew firings of our replica 1841 six-pound cannon at events.
• Assisting in genealogical research.
• Conducting local history classes.
• Conducting lectures and special tours for school groups and other organizations and individuals.
• Providing visitor information and a self-guided tour brochure available online and at the
Southport Visitors Center.
• Presenting public lectures on historical topics.
• Recording history through oral and video interviews.
• Participating in NC State Regional Historic Site programs.
• Preserving and maintaining the "Old Jail" and other historic buildings.
• Identifying and protecting old Southport cemeteries.
• Publishing and sale of books related to local history.
In addition to the activities noted above, the Society recently replaced historical markers throughout the City, at an expense in excess of $15,000. The Society also provides support to other local organizations and projects working to preserve the history of Southport. The Commemorative Brick Program is your chance to add your personalized support to help the Society continue to play an important role in keeping Southport's history alive.
Please support the Southport Historical Society, as well as the City of Southport, while at the same time commemorating a person, organization, or event of personal significance to you!
Any questions about this program, or the Society as a whole, can be directed to: info@southporthistoricalsociety.org or on our web page at http://www.southporthistoricalsociety.org/