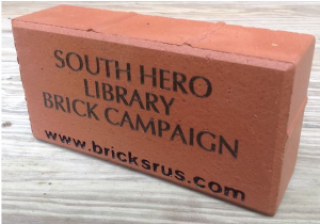 Pave The Way To Your New Library!

The bricks you buy will become part of a path or patio in a landscape designed by local gardeners.
Honor a loved one or a person you know who supports lifelong learning. You can even remember a beloved family pet.
The purchase of an engraved brick will make a statement that will last for generations to come.

Net proceeds from the sale of bricks will go to support the South Hero Library.

The South Hero Library Foundation is a 501C3 organization, therefore, your brick purchase may be tax deductible. Be sure to check with your tax advisor.

BUY A BRICK...LEAVE A LEGACY

Thank you for your support!