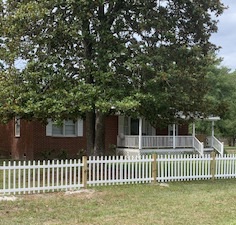 At Roots, we provide a community to support women on their journey, not just a place to live. Through peer-supported growth for women who are homeless, women with children, and pregnant women, we focus on the steps to successfully rebuild lives shattered by abuse, addiction, or poverty, including education, job training, and life skills.

Roots has been transforming lives one day at a time in our tiny home community. By purchasing a personalized commemorative brick, your contribution will support Roots's ability to provide life-saving, life-changing critical services while simultaneously beautifying our buildings and grounds.

Roots's giving garden provides a beautiful setting to rest and reconnect, in addition to providing fresh vegetables for our community.

Become a permanent part of this garden while honoring your loved ones past and present. Commemorate a special event in someones' life, honor a friend or family member and memorialize someone special.

Bricks will sell for $100 for a 4x8 inch brick; $225 for a 8x8 inch brick.

The 4x8 brick will have space for 3 lines, 18 characters per line. The 8x8 brick will have space for 6 lines, 18 characters per line. We recommend using all capital letters for ease of viewing.

The net proceeds from all brick sales will be used to maintain the beauty of the garden in years to come.