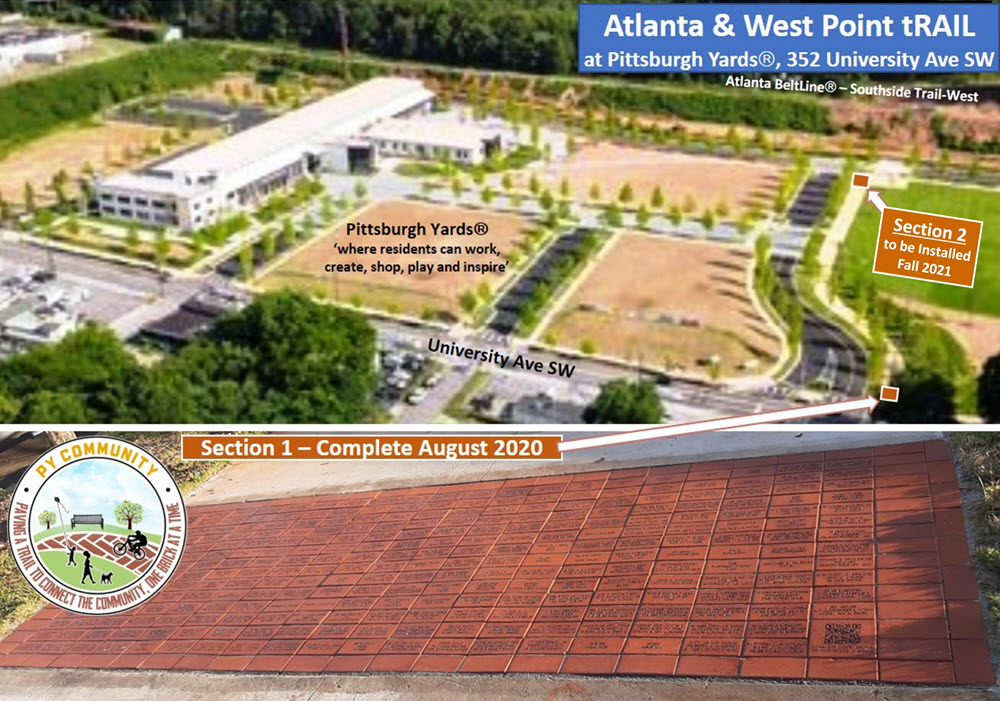 PY COMMUNITY INC.*........Fundraiser to Sell Engraved Bricks for the Atlanta & West Point tRAIL at Pittsburgh YardsTM...... PAVING A TRAIL TO CONNECT THE COMMUNITY, ONE BRICK AT A TIME.
This is your opportunity to leave a lasting memory in Atlanta's Pittsburgh neighborhood that will remain in place for a lifetime! Your brick will be placed on a trail on the Pittsburgh YardsTM property located on University Avenue. You may purchase a brick for yourself, a family member or loved one, or business. Proceeds from this brick program will be used to purchase design elements such as an outdoor clock, 2 entrance signs, benches with coordinating trash receptacles, local artwork, and colorful fragrant trees.
Brick size is 4" x 8" - $50 for Pittsburgh Residents & Businesses, and ALL Other Neighborhoods.
For an additional $20, a souvenir brick is available for purchase (at the time of your 4" x 8" brick purchase), and you will be notified via email: 1) the location of your Brick(s) placement; 2) when and where to pick up Souvenir Brick(s) - estimated time frame for this communication / distribution of Souvenir Brick(s) is December 2019.
The 4" x 8" brick will have three lines of text and 18 characters are permitted on each line - all alphabet characters will be in upper case lettering. All characters as found on a typical keyboard (i.e., - ! , - +) are acceptable. Each brick inscription will be reviewed for appropriateness of the content.
If you have questions, please send an email to PYcommunityPlanning@gmail.com. Payments will be processed through the Bricks R Us portal, and can be in the form of credit card, or PayPal only. Select the PAYPAL button, Select CONTINUE, read message, Select CONTINUE again. Click on the LIGHT BLUE RECTANGLE that reads "Pay with Debit or Credit Card", follow remaining prompts to complete the transaction.
Once you have completed your order, please print a copy of the confirmation page for your reference. If you have any questions, email pycommunityplanning@gmail.
*Please note: This is an independent, community-led project.