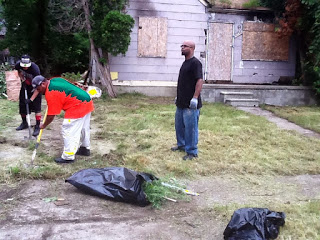 4336 Williams Street Inkster, MI 48141 is the home of Winfred Little the Brother to Malcom Little AKA Malcolm X. In the 1950's after being released from prison Malcolm Little was paroled to 4336 Williams Street to live with his brother. It was from there Malcolm worked at a furniture store on Oakland street in Inkster. Later Winfred introduced Malcom to the Nation of Islam AKA NOI, this was the star of the begging of Malcolm Little becoming Malcolm X, while living in the City of Inkster Malcolm rose to fame if you listen to Malcolm's speech "By Any Means Necessary" you will hear Malcolm talking about his commute from Inkster, MI to Detroit, MI.

We are in the works of having this home to become a historical land mark and turning the home into a vocab center for the youth, Malcom once said Education is the passport to the future, for tomorrow belongs to those who prepare for it today.

We are giving you the opportunity to become a part of the future by purchasing a engraving brick that will be put in the driveway, on the sidewalk and to walk way leading to the front porch.

You can purchase a 4x4 brick for $125 or a 8x8 brick for $250.