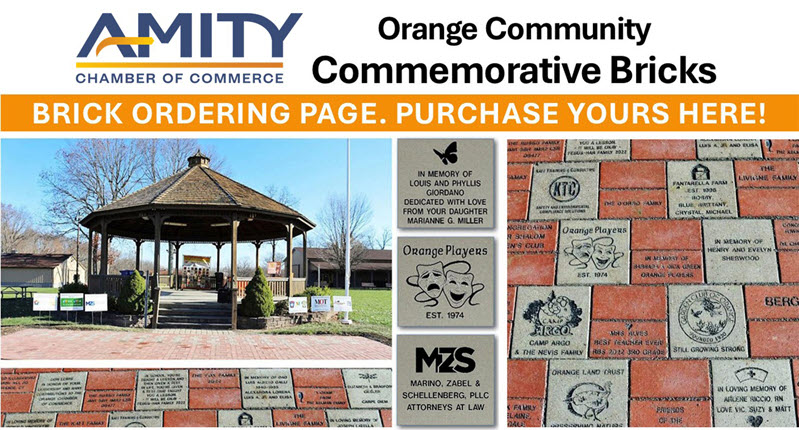 DON'T MISS OUT on this once-in-a-lifetime opportunity to be part of Orange history. This program will raise crucial funds to support the local business community through your support of the Chamber and our members.
Reasons to Buy a Brick: Buy an Engraved Brick in honor of family, in memory of loved ones or pets, recognize a volunteer, birthdays, weddings, graduations, anniversaries, or your business or organization.
There will be a LIMITED NUMBER of BRICKS SOLD during Phase One of this project. BUY YOUR BRICK TODAY!
Brick Installation and Dedication Ceremony: Bricks will be installed around the front half of the Gazebo at High Plains Community Center by June. There will be a Dedication Ceremony for the bricks in conjunction with the Town of Orange Bicentennial activities in Summer 2022. All people purchasing a brick will be notified via email of the exact date and time once determined.
Brick Colors, Sizes and Engraving Options
Red bricks come in the 4x8 size only. You can have up to 4 lines of text with a maximum of 21 characters per line.

Red bricks with a stock symbol can have up to 3 lines of text with a maximum of 21 characters per line. A stock symbol is a generic image that you can choose on the second ordering screen. An example would be a medical symbol, flowers, holiday, etc. There's a large selection to choose from in the ordering process. Red 4x8 bricks cannot have a custom logo.

Gray bricks come in the 8x8 size only. You can have up to 8 lines of text with a maximum of 21 characters per line.

Gray bricks with a stock symbol can have up to 7 lines of text with a maximum of 21 characters.

Gray bricks with a custom logo that you provide will vary on the number of lines of text based on the size of your logo. There is a preparation charge for custom logos which has already been incorporated into the price listed for the brick. Some exceptions may apply depending on your logo design.

After the selection of your brick(s) you will see a price under Donation Total. There is an option to check a box thatsays, "I would like to cover the cost of this transaction" and it provides the amount of the transaction fee. While the Orange Chamber does not require you to pay the credit card transaction fee, this is a fundraiser for the Chamber and your donation to cover the cost of credit card processing would be very much appreciated.
Important Items of Note
After you complete the ordering process you will receive an Order Summary which will provide you with a copy of the text that will be engraved on your brick(s).

If you have any questions, or make a mistake, you can contact the Chamber Office at director@orangectchamber.com or call 203-795-3328. Do not worry, we will work with you until you are satisfied with your order. It is very important that you contact the Chamber as soon as possible with any changes.

If you would like a certificate to give to someone you have purchased a brick for, contact the Chamber Office and we will provide a template that you can customize and print yourself.