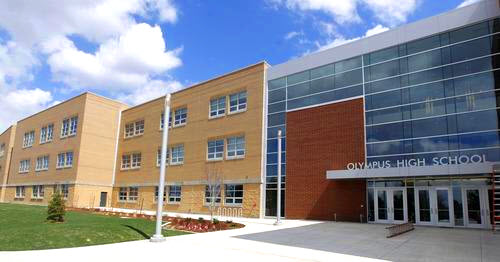 Leave Your Legacy at
Olympus High School
The Olympus Development Foundation is pleased to offer Olympus High School Supporters and Alumni the opportunity to show their lasting support by purchasing a brick for our "Legacy Wall".
These personalized bricks will be part of the 2nd phase of our "Legacy Wall" in the new Olympus High School. The first section of the "Legacy Wall" has been completed and available for viewing. Your donations will help build programs at Olympus High School such as the new pre-engineering program, medical training program, arts, media, drama, athletics and much more. Olympus is distinguishing itself as the premier High School of choice in the Salt Lake Valley.
The Olympus Foundation currently provides more than $30,000 annually in donations directly back into Olympus High and its students. With our "Legacy Wall" we hope to grow our ability to help students and their future pursuits.
There are only a limited number or bricks available, so please don't let this opportunity pass you by! Purchase your Brick today and secure your legacy at Olympus High School while being a part of the greatest high school in the state.
Three sizes of bricks are available for purchase: 4"X 8" for $125, 8"X 8" for $250, 12'x 12" for $500.
All you have to do, is just complete the order form below and submit.
The Olympus Foundation reserves the right to review all submissions before final brick approval.