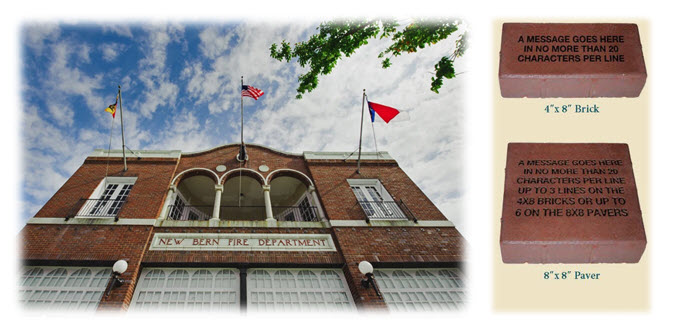 Leave a legacy and support the restoration of the central fire station
Intercative exhibits featuring the fire of '22 have been built and historic fire equipment has been interpreted. We have Fire Station full surprises in 1928 style schedule for completion in the old central Fire Station Building in 2016! A Children's Fire Museum equipped with hands-on exhibits, fire safety programs, and birthday party opportunities will be waiting for the youngest New Bernians to take part in the City's legacy of firefighting. All of this and more will be housed in the Central Fire Station Building, circa 1928 located at 420 Borad Street in Downtown New Bern!
The New Bern Firemen's Museum is making history with the restoration of Central Fire Station. You have a special opportunity to become part of this lasting legacy when you purchase an engraved 4''x8'' Brick or 8''x8'' Paver at a special price. These special bricks and pavers will be placed in the "Honor Walk" of the newly landscaped courtyard of the Museum that will house a historic bell from City Hall. It will an opportunity to show your support of New Bern's fire history and a place you and your loved ones can visit for years to come!
*When submitting your credit card information please click on "place order" ONCE.