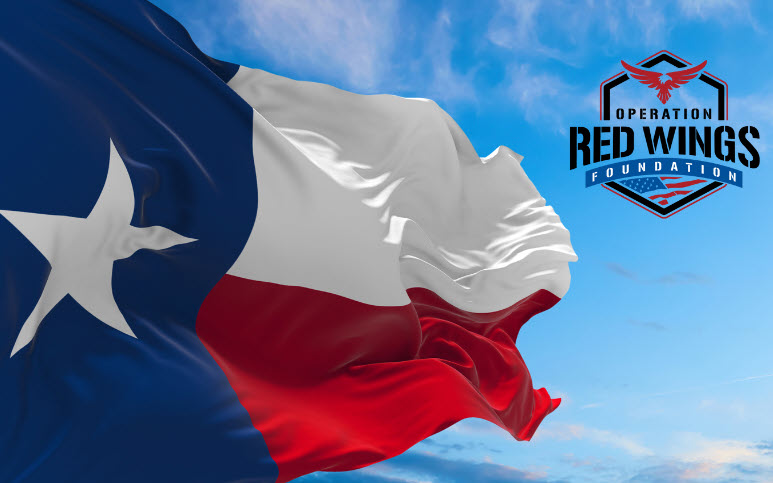 Leave a lasting legacy at the Operation Red Wings Foundation Texas facility by purchasing an engraved commemorative brick for you or in memory/honor of a Veteran or member of the U.S. Armed Forces.
Hundreds of Veterans, along with their families attend ORWF retreats. Every time they walk the grounds, they will be reminded of your support.
Won't you please become part of the legacy? Purchase your legacy brick today!
Legacy Brick Sizes
4 X 8 Brick
8 X 8 Brick
12 X 12 Brick
4 - 8 X 8 Corporate Array with your company logo
Email your company logo to dale@orwfoundation.org with the Subject of Corporate Brick Array
In order to keep the memorial bricks uniform in purpose, we request that the first line of the bricks be one of the following phrases –
Line 1 options:
In Memory Of

In Honor Of

Dedicated By
Line 2 should contain the name of the person being honored or memorialized, or it can contain your name if the "Dedicated By" option is chosen.
Suggestions for the remaining lines include:
Rank

Military Branch

Designation of unit or wars fought in

Epitaph such as "Beloved Brother", "Loving Father", etc.

Year/date of birth – Year/date of death
You may also choose to do an all-encompassing memorial brick (to be used with the "Dedicated By" option). Here are some suggestions:
In Honor of Our Military

In Honor of US Veterans

In Memory of Fallen Heroes

In Honor of Wounded Soldiers

In Support of ORWF Retreats

In Honor of Operation Red Wings (12x12 only)
Operation Red Wings Foundation reserves the right to review and approve brick engravings. Disrespectful or inappropriate engravings are not permitted.

Don't forget to add a Miniature Souvenir Brick to your order! You will receive a miniature version of your legacy brick, including your personalized engraving. Due to minimum order requirements, please allow up to two months for delivery of your souvenir brick.
Souvenir Brick Sizes:
A 4x8 brick will get a 1.5" x 3" souvenir brick

An 8x8 brick will get a 3" x 3" souvenir brick