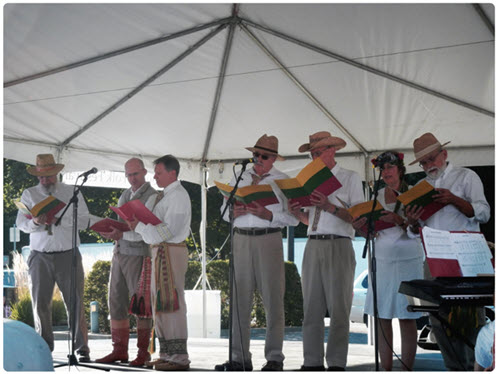 The Lithuanian Citizens Society of Western Pennsylvania
Attention Everyone: We really need your help to make the Lithuanian Citizens Society of Western Pennsylvania Memorial Brick Campaign a huge success! The purpose of the campaign is to honor those of Lithuanian descent who are dear to us. These bricks will permanently recognize those folks and will double as a fund raiser to help in capital improvements.

Our project target is to get a commitment of 100 Bricks in phase one!

Here are some highlights to consider about The Lithuanian Citizens Society of Western Pennsylvania:

The Citizens Society's permanent location is now 904 Coal Valley Rd. in Jefferson Hills, approximately 8 miles southeast of Downtown Pittsburgh and just off of Route 51. The charter for the Society was granted in October of 1912. Recently, our membership has been growing on average about 25% per year.

To help with the upkeep of the property and the promotion of events, we are hosting a Memorial Brick Fundraising Project. The bricks can be purchased in memory of a loved one that is no longer with us or in honor of someone that is important in your life. There will be a wall at the club that will be covered with the brick tiles to permanently remember or honor all those who have played a role in preserving the Lithuanian Heritage of Western Pennsylvania. (Grandparents, Aunts, Uncles, Family Members, Companies, Schools, Churches, and other organizations, etc.).

The Society has held an annual Jonines celebration for over 20 years and 10 years ago began to hold an annual pig roast. The Society has sponsored cultural activities such as Lithuanian cooking classes and egg decorating, as well as an annual celebration of a traditional Lithuanian Kucios for many decades. In 2022 we had Jonines, Kennywood Day (the first time since 1955), celebrated Lithuania Independence with a virtual program, and had educational events which included hosting our Lithuanian brothers and sisters from Cleveland and Chicago.

The Lithuanian Citizens Society of Western PA is over 100 years old. We are actively keeping the history, heritage, and culture of our Lithuanian ancestors alive and hope to pass it down for the next and future generations.

With this small sampling of information, we hope to encourage you to remember and honor our past and preserve our heritage for the future. The Club feels that having a memorial/honor brick placed on a designate wall will be a wonderful way to do just that.

Please help us reach our goal of 100 Bricks!!! Bricks will start at $50 per unit in Phase One.

To purchase a brick, begin by filling out the form below and click through the process, following the instructions for options as to what wording you would like to place on the brick and the limits for doing so. You can get creative. At the end, you will be able to pay by credit card or you will have the option of sending a check payable to LCSWPA and mailing it to 1113 Gosser Street, Leechburg Pa 15656.

ačiū/Thank you!