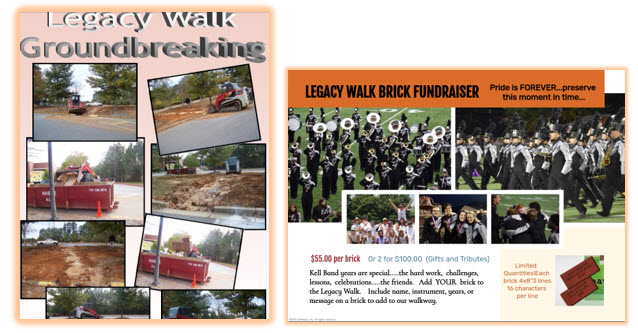 Thank you for supporting the Kell High School Band Programs! By purchasing a commemorative brick(s) to include in the growing "Legacy Walk", you support the proud history of this exceptional program, as well as supporting its growth.

We are so fortunate to have the opportunity for our student to participate in all levels of this Band Program. Band expands minds, builds confidence, creates memories, and fosters strong, lifelong friendships. It is a priceless experience. However......the reality is that providing these activities is NOT priceless. There are always needs for instrument and equipment replacement, uniform upkeep, professional instruction, food, travel, competition costs and more. The list is endless. KBBA strives to provide support for this excellent program while keeping costs attainable for all students interested in participating. Your support allows us to continue this goal.

So, thank you again for your support, and look for your brick in the Legacy Walkway leading from the Music Department to the practice field. It already includes outstanding members who built a solid foundation for today's students, and well as tomorrow's. Thank you for adding to this Legacy!