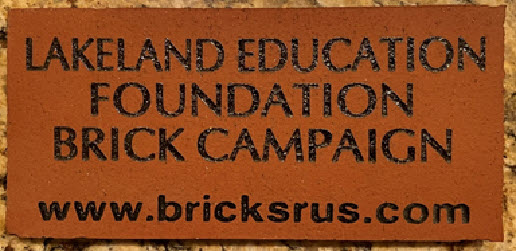 High School Brick Fundraiser
Bricks will be installed at the new main entrance to the high school side of Lakeland Preparatory School. Leave your mark with a personalized brick where students, faculty, staff, and visitors to the school will see as they enter the school.
Lakeland Education Foundation is a 501(c)(3) non-profit educational organization that raises funds for the public schools and teachers in our community. The funds are used to enrich the quality of the education for all students so that they may reach their full potential. To date, money raised have been used to fund teacher grants for technology, such as 3D printers, innovative flexible seating, musical instruments, a greenhouse, weather station, and interactive math and reading supplements that improve comprehension.
You can support these endeavors by leaving your mark at Lakeland Preparatory School with a personalized brick;
Celebrate School Years and Accomplishments

Remember a Loved One

Express Gratitude to a Staff Member or Classmate

Convey Appreciation to Family Members

Set Your Family Name in Stone for Years to Come

Local Business Support of Our new High School
We are offering the following options:
4x8 brick, which includes 4 lines of text and 18 characters per line, $100.
4x8 brick with the lion mascot logo & 4 lines of text at 18 characters per line for $125.
A sample of the layout for bricks with a mascot are below for reference. The lion will appear on the left side of a 4 x 8 brick.
All orders should be placed online, but purchases can be paid for online via PayPal or by check made payable and mailed to: Lakeland Education Foundation, 10001, TN 38002.
Have a question? Check out additional details on the LEF Fundraising page at https://supportlakelandschools.org/fundraising/ or email questions to Bricks@lakelandedfoundation.com .
LEF greatly appreciates your support to enrich the educational opportunities for all children in Lakeland!
***Purchaser is responsible for the accuracy of their order, inclusive of spelling. Please carefully review your order prior to submission. LEF reserves the right to review all text for appropriateness and to decline those that do not reflect the spirit of the project at the sole discretion of Lakeland Education Foundation.***