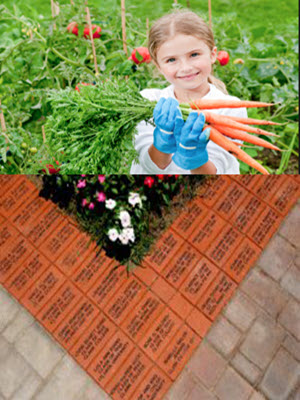 Leawood Elementary School is busy planning a new School Garden and Outdoor Classroom and we are very excited to offer an area where personalized bricks can be seen by all in the garden! The bricks will be used to build a Butterfly Tunnel where 2 raised beds will be built with the bricks and climbing vines and trellis's will create a tunnel for the kids to run through! Another project is an L-shaped raised bed built of bricks to be in our Story Book Corner furnished with a chair and and an outdoor rug to make it cozy! Another project will be a path near the garden leading to a bench seating area under the shade of trees!

Do you want to have your child's name or your family's name to live in one of these spots forever? Do you want to support two good causes?

Good Cause #1 : The Columbine tragedy was 20 years ago, and in honor we are dedicating our Butterfly Tunnel as the "Columbine Memorial Butterfly Tunnel- Endurance, Change, Hope and Life". Please consider buying a personalized brick if this memorial is close to your heart. As part of the Columbine Day of Service on April 20, 2019 we are building our garden with the help of volunteers. If you would like to volunteer on that day, just show up! We will be working from 9am-2pm . We will need several people to help build the raised beds, build a shed, break up dirt, etc. There will also be food, entertainment and kids crafts.

Good Cause #2: Leawood Elementary School needs your support to make our new garden something special. The more bricks purchased, the more fun things we can build with the bricks. Currently 3 raised beds are planned with these red bricks, but there could be more! Think of it as a donation to your school AND your name is in the garden forever!

Bricks purchased will be shipped to Leawood Elementary School. Be a part of history by purchasing a brick . Thank you!