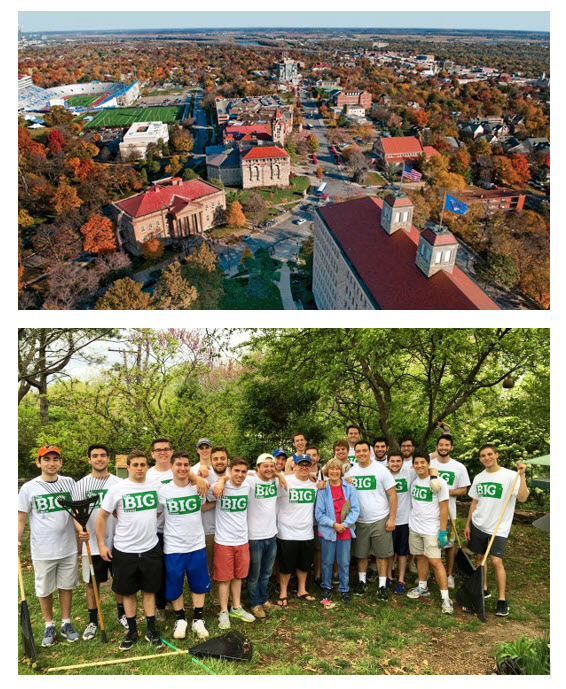 Alpha Epsilon Pi is the Jewish fraternity at the University of Kansas that fosters the core values of Judaism to provide our members with the best possible Jewish fraternal experience. Our commitment to brotherhood between each member helps us to build strong ties and friendships that will last a lifetime. Alpha Epsilon Pi develops leadership for the future of the global community. Tomorrow's Jewish leaders are in our chapters today, and it is our job to support the Jewish cause worldwide.
The Kappa Upsilon Chapter at the University of Kansas strives to live by the values of Alpha Epsilon Pi's mission. We set a high standard for our brothers in regards to academics, community service, philanthropy, and brotherhood involvement. With incredible growth in recent years, we haven't forgotten the importance of a close brotherhood. At Alpha Epsilon Pi, your brothers become your family. Our goal is to create a home away from home for the young Jewish man, a place where he feels his presence is valued, and a place where he can thrive.
This Campaign will be raising money for 5 key areas to improve the chapter. These areas include House Restoration, Leadership & Development, Scholarship, Betterment of Chapter, and New House exploratory.
For House Restoration, with a new house still only in the development stages, the chapter needs to make improvements to key areas of the house to continue operating with a soon to be over 100 person chapter. Key areas include major upgrades to our kitchen to provide a better quality meal service to our members. Upgrades to the Brotherhood room and Formal room, which will help create better common areas for live ins as well as better spaces to all hangout for the entire chapter. New tables and chairs for our dining room, with the current ones being out of date and almost all broken. As well as some other projects that can improve the current housing element for active members. Most projects in this category will be able to be moved into our new house and save the chapter money on these current purchases in the future.
For Leadership and Development, this fund will go to providing any brother of the chapter the funds necessary to go to conferences for Alpha Epsilon Pi, or outside organizations that can help them grow as leaders. This will put us ahead of the curb and allow us to be one of the few chapters in the country that have money aside to send members to conferences throughout the country to grow as leaders and gain experiences they wouldn't be able to without these funds. As well as this money will go to send our brothers to Alpha Epsilon Pi conferences that can help us grow and improve as a chapter by the experiences they will gain.
For Scholarship at the moment we are one of the only chapters on campus that have no funds backing the scholarships for our fraternity. What this fund will do is allow the chapter to give out scholarships without having to take financial burdens on the active chapter and current members.
For Betterment of Chapter, these funds will go toward events and parts of the active budget we can be doing better if we had more funds. A major category we want to increase is Rush, coming off a 31 man rush class the chapter understands the best ways to get potential members to go AEPi, and that comes in having a strong spring informal rush for incoming high school seniors. The chapter would want to explore more ways to get more people down visiting the chapter which is harder for us than other campus organizations, since a majority of our guys are out of state. Other areas the money would go to is providing the best experience to the active chapter, and the current members is and having the chapter provide more to our current members then we already do, other potential categories include Parents Weekends, Civic, Philanthropy, and Social events, all categories that can improve the current experience for members
For Housing, Alpha Epsilon Pi's chapter facility is one of the oldest houses on campus with a rich history. Before being purchased by Alpha Epsilon Pi, 1116 Indiana was home to Kappa Alpha Theta Sorority, Triangle Fraternity, and a few of the University Chancellors. With this, the house is over 100 years old and needs to be rebuilt. For the last four years the chapter has been growing, with consistency pledge classes over 20 members, growing the house to 86 brothers with track to reach over 100 in the upcoming years. The money for this category would go toward the initial steps in obtaining a new house.
All bricks bought will be placed in the current house, and when we do get a new house all bricks will be moved and displayed in the new house. As well as all funds donated will be placed into a separate savings account to be used for the 5 categories mentioned above. For any questions or large scale donations please contact me directly as my information is on the bottom.
Fraternally
Maxwell Schwartz
631-339-1418