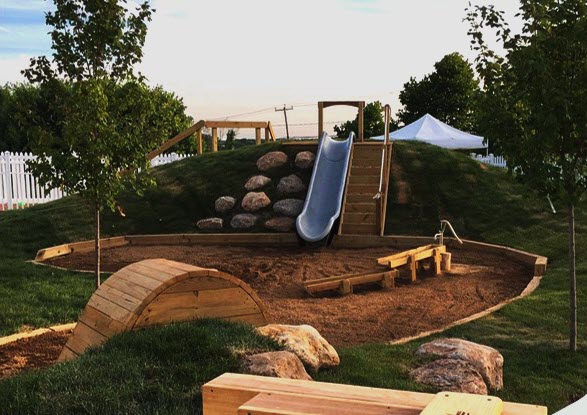 Kiwanis Kids Idea Studio Natural Playground

The Kiwanis Clubs of Colonial Capital, Toano, and Williamsburg are raising funds to help the Friends of the Williamsburg Regional Library build a natural playground at the James City County Library on Croaker Road. The playground represents phase 2 of the Kiwanis Kids Idea Studio.
The Williamsburg area Kiwanis Clubs have pledged $92,000 to get things started towards the campaign goal of $200,000. We have enlisted the Greater Williamsburg Chamber of Commerce and the Kiwanis' student affiliates at William and Mary and local elementary and high schools to help with this effort. They will be contacting families, friends, and local businesses.

On this site, donors are choosing custom engraved tiles to commemorate their donation.

Create a customized tile for installation on the library's grounds
Custom engraved tiles will be procured for donations of $250 and $500. For a $250 donation, the donor can choose to engrave a 4" x 8" tile with 3 lines of text with a custom logo. For a $500 donation, the donor can choose to engrave an 8" x 8" tile with 6 lines of text and a custom logo. Logos must be submitted, jpeg file, with the donation. The tiles will be part of an installation memorializing the donor's contribution to this campaign.
Enter Kiwanian or SLP contact information (first initial, last name, email address, and organization) into the Comments field after making the tile selection.
Thank you for your support!