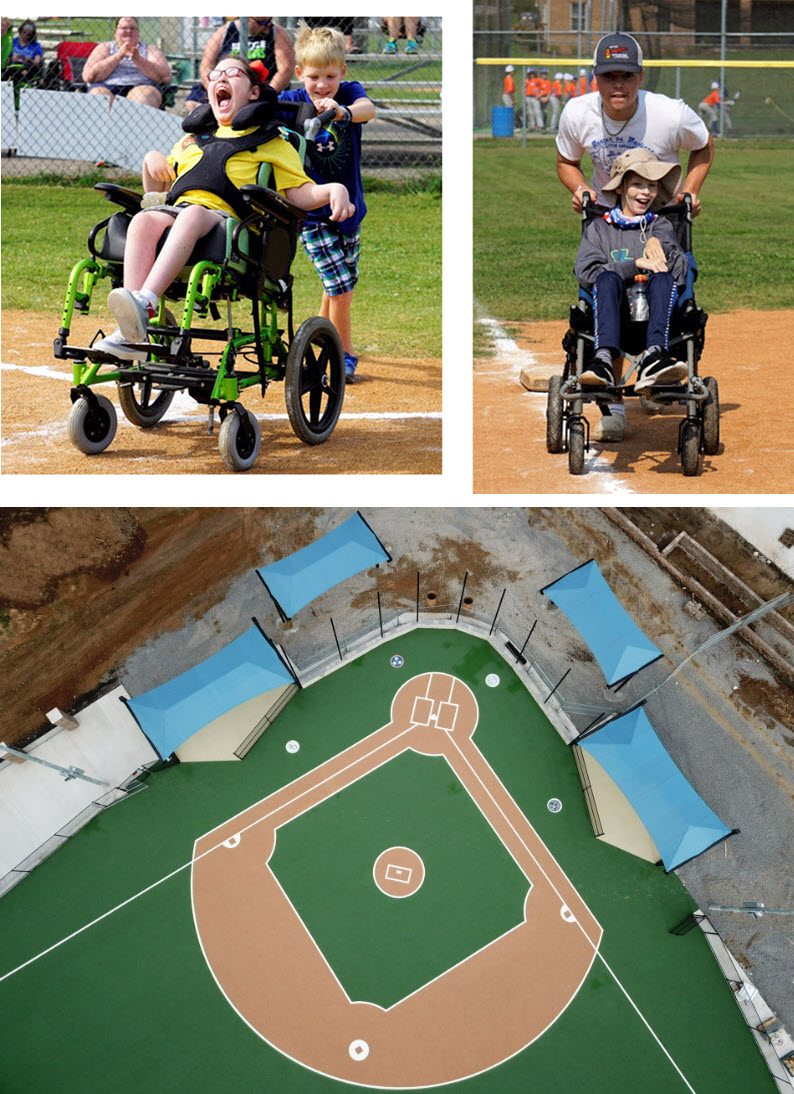 Be a part of THE OVERCOMER ALL-INCLUSIVE BASEBALL FIELD by purchasing a personalized commemorative BRICK to honor a precious friend or dear family member, commemorate a special, or help your organization or clubs desire to make a difference by becoming a permanent part of our accessible dugout construction. Your personalized brick will make a long-term difference for others!

Purchasing a brick is an easy way to leave a lasting memory while helping us work towards construction funding for our customized accessible dugouts to protect our Overcomer baseball players.

Engraved on your custom paver could be your name, your anniversary, a loved one's name, your business, your organization, a club you were in, or in honor of someone else. Pavers are the standard 4 x 8 brick with black lettering. We will do our best to accommodate your engraving wishes as long as they fit within the boundaries of up to three lines with up to 18 characters per line.

Your privacy is important to us. To better protect your privacy, we provide this notice explaining our online information practices. Our privacy policy is simple: we collect no information about you unless you choose to provide that information to us. In addition, we do not give, share, sell, or transfer any personal information about you to any third parties. To prevent unauthorized access, maintain accuracy, and ensure the correct use of information, we have put in place appropriate physical, electronic, and managerial procedures to safeguard and secure any information that we collect. If you have questions about our privacy practices, you can contact us at the postal or email address posted on this site.
Kendyl and Friends Foundation, Inc is a 501c3 organization serving central KY children of all abilities by promoting inclusivity. Outreach programs that help communities develop plans for inclusive playground construction and fundraising assistance as well as facilitating grant and scholarship by helping families obtain vital equipment not covered by insurance. promoting scholarship for high school students pursuing special education and helping facilitate individuals in need of assistance to attend therapeutic camps and learning experiences to stimulate their development. Kendyl and Friends works year-round to meet and exceed the needs of those we serve.

One of our biggest outreach programs is our Overcomer Baseball League where children of all abilities can participate in one of America's favorite past times.

The Overcomer Baseball League:

*Allows team sport participation at NO COST thanks to local businesses, individuals and grant dollars
*Pairs trained volunteers with children so parents can enjoy the game and cheer for their children
*Promotes fellowship among families and the community
*Serves as an outreach opportunity for youth and college organizations
*Provides interpreters for deaf and hard of hearing patients
*Offers an environment filled with positivity to facilitate growth and development of teamwork and familial support

In 2021, Kendyl and Friends began actively searching for land where we could call HOME where we could further serve Central KY by building the OVERCOMERS fully inclusive baseball field. We are so excited to share that our forever home will be located in the heart of Boyle County, Kentucky!

We need your help! As a cornerstone for our inclusive field construction, we need dugouts that will accommodate our children. What better way to show your support than participating in our "Raise a Wall" fundraiser by purchasing a brick that will be used to construct our dugouts!

Looking to make a LARGER impact? Challenge your local baseball or softball team, youth organization, classroom, work place, etc. to share this fundraiser.