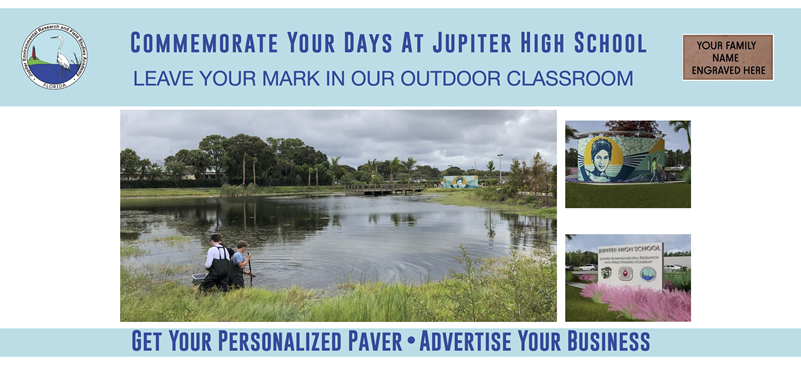 You are invited to become a permanent part of the Perry J. Cohen Wetlands Laboratory by purchasing a commemorative paver. The pavers will be installed in and around the wetlands. Funds raised will be used to support the wetlandís required annual maintenance fees. Purchasing pavers is an easy way to leave a lasting family legacy on the JHS campus and help support our annual outdoor classroom maintenance fees.

Engraved on your custom paver could be your family name, student or alumniís name(s) and year of graduating class with a special symbol. You could engrave a paver in honor of someone special, a favorite teacher, coach or mentor, or in a loved oneís memory. You could also advertise your business with a custom logo engraving. In addition, duplicate pavers (Souvenir Bricks) can be purchased as a keep sake for your home or office.

Payments can be made via school cash online or check. Checks should be made payable to Jupiter High School. Forms should be returned to Dr. Thornton and may be emailed. If you have any questions please email Dr. Thornton at teresa.thornton@palmbeachschools.org.