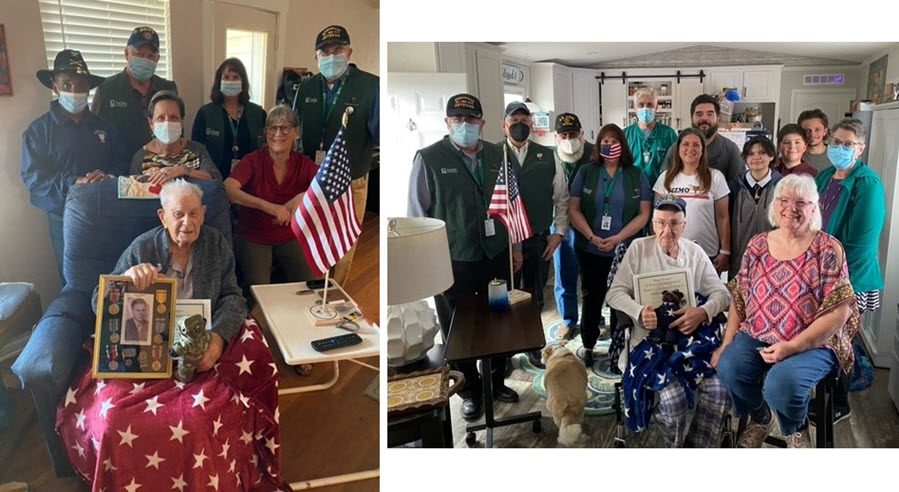 Honor your Veteran with an engraved brick on the Hope Hospice Veterans Plaza on their main campus in New Braunfels, Texas. Whether your Veteran is still with us or you wish to memorialize someone who isn't, Hope has a place where all can be recognized and honored.

Bricks are available to be purchased for $50.00. Funds received cover the cost of the bricks and support the ongoing efforts of Hope Hospice to address the end-of-life needs of Veterans.

All veterans can be a part of the Hope Hospice Veterans Plaza no matter if your family has been served by Hope Hospice or not. There is no limit to the number of bricks you may order.

Anyone active or honorably discharged, military Veteran, living or deceased, of any United States branch of service, including Reserves or National Guard is eligible.
4X 8 bricks will be engraved with:

Line 1 (Veteran's Name) max 18 characters
Line 2 (Rank) Rank will be spelled out with a max of 18 characters. Navy Ranks will use "Petty Officer," or "Chief" etc., but not job title as is often used.
Line 3 (Branch of Service)
For more information about the "We Honor Veterans Program" of Hope Hospice please see below.

Hope Hospice is a proud Level 4 Partner of "We Honor Veterans Program." The We Honor Veterans Program (WHV) was created by the National Hospice and Palliative Care Organization (NHPCO) in partnership with the Veterans Administration (VA) to address the end-of-life needs of Veterans that were not being met.

Of the over 26 million American Veterans living around the world today, only about 33% are currently enrolled in the VA. Many Veterans and their families are unaware of benefits that they may be eligible for. Those benefits include caregiver support, burial benefits, help with funeral costs, surviving spousal benefits, and many others.

Many Veterans have also experienced trauma as part of their military service. That trauma, unresolved, can lead to many poor outcomes, including an emotionally difficult death for them and their families.

Hope Hospice has a continuing commitment and dedication to ensure Veterans have access to quality end-of-life care and have their unique needs addressed; we serve those who served us.

In an effort to provide our Veterans with the "peaceful passing" that our men and women in uniform deserve, Hope Hospice has partnered with the WHV Program to:

Address the mental, emotional, and spiritual aspects of unresolved trauma to give Veterans a more peaceful passing.

Provide training to our staff to inform of Veterans issues and concerns, how to recognize them, and what to do with that information.

Assist Veterans with VA enrollment.

Coordinate with other Veteran Service Organizations (VSO's) to find specific resources Veterans may be needing.

Support the Veterans History Project where Veteran's stories are shared and saved forever at the Library of Congress.

Provide education to the community on Veterans issues and needs.

Provide community recognition ceremonies, like Veterans Day, and Memorial Day to give the community a place to recognize, support, and remember our living Veterans and the Veterans who have died in the service of our nation.

Provide a "Veteran to Veteran" volunteer program where Veteran patients are matched with other Veterans who are able to connect with them in ways that non-Veterans are unable to do.

Provide individual Veteran patient recognition ceremonies to thank our Veterans for their service, many of whom have never been thanked in an individual way before.

Provide a "Final Salute" to our Veterans when they pass, by covering them with a flag when the funeral home comes to transport them. That flag is then given to the Veteran's family as a final gift to them.
For more information about our program please give us a call at 830-625-7525