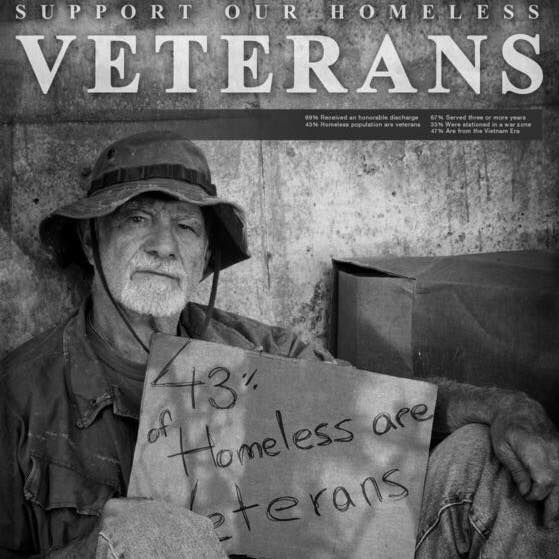 Homeless Military Veterans is a non-profit organization dedicated to helping homeless veterans in the Oklahoma City area. Run by Kelly Hall, their mission is to provide shelter, sustenance, medical care, advocacy, opportunity, and hope while transitioning from homelessness to housing. There are roughly 360 homeless veterans in Oklahoma City and Kelly says that they aren't getting the support and help that they need from the VA. Kelly was prompted to start HMV because of personalexperience. His father struggled and fought with the VA for 3 years without assistance. Because of his unique situation and the VA's inadequacy, his father became a homeless veteran.
HMV recently received a donated RV to shelter homeless veterans but it was damaged beyond repair by a falling tree. HMV has a few properties that need repaired in order to house homeless veterans as soon as possible. On one property an outer wall needs rebuilt. You can help these homeless veterans immediately by going to www.homelessmilitaryveterans.com and signing up for the newsletter. HMV will use the newsletter and their Facebook page HomelessMilitaryVeterans in order to update everyone on progress. You can also donate to the charity by clicking the "Donate" button on the Facebook page.
Can't donate? Volunteer your time instead. HMV is looking for help with house repairs, outreach, and more. If you are interested in volunteering, email khall@homelessmilitaryveterans.com and let him know how you can help. HMV is now hosting weddings in the church on their property with all proceeds going to the charity. Email or message HMV on Facebook for more details. Homeless veterans need your help. Every dime you donate will be used to help shelter and feed our men and women in the streets. These veterans are someone's father, mother, brother, sister, son, or daughter. They put it all on the line for you. Help them start a new life by donating today.
Facility was damaged in an accident. Money will go to fixing up the building so veterans have somewhere to stay.