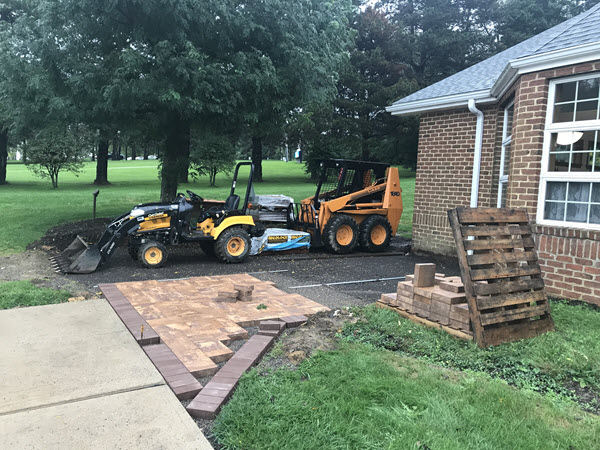 Support Highland Community Library by paving the way to the future, one brick at a time! Purchase a commemorative brick for our new outdoor patio and make an important contribution to your library.
About Highland Community Library
The mission of Highland Community Library is to empower our community by providing opportunities to connect, discover, and thrive. For over 50 years, Highland Community Library has provided residents of the East Hills area with reading materials and information resources to meet their entertainment and educational needs, in addition to high quality library programming for all ages.
About the Outdoor Patio Project
In 2016, Highland Community Library received a generous donation to update the outside of our building to make it more welcoming for our patrons. The overwhelmingly positive response to these updates demonstrated to us that we needed to do more to provide outdoor seating and expand the physical reach of the library — and the Outdoor Patio Project was born.
In 2017, we received a grant from the Community Foundation for the Alleghenies that enabled us to make this project a reality. In late summer 2018, the outdoor patio was installed on the left corner of the building, featuring a wheelchair accessible picnic table. The new patio provides our community with an attractive outdoor space to use for reading, studying, participating in library programs, or simply enjoying a beautiful Richland day.
Your purchase of a personalized brick will provide much-needed support to update the library's interior, including additional funds for brand new programs, the purchase of new furniture, and a third picnic table for the patio area.
How can you help?
Highland Community Library invites you to become a permanent part of our new Outdoor Patio Project. Your gift of $100.00 will provide one 4" x 8" engraved commemorative brick for the patio walkway.
Engrave your custom brick with:
• Your family name
• Your children's names
• Your company or organization's name
• A memorial to a loved one or a pet
• A commemoration of a special occasion
• An inspirational message or a literary quote
Each brick may contain up to 3 lines of copy, 18 characters per line. All text is capitalized and centered. Highland Community Library is a 501(c)(3) nonprofit organization, so your brick purchase is tax-deductible.
Your friends at Highland Community Library are dedicated to helping our community succeed — but we need your help to secure our future.
Bricks must be ordered in batches of ten, so your patience is appreciated. Order now to ensure your dedication to the library is memorialized in our patio walkway!