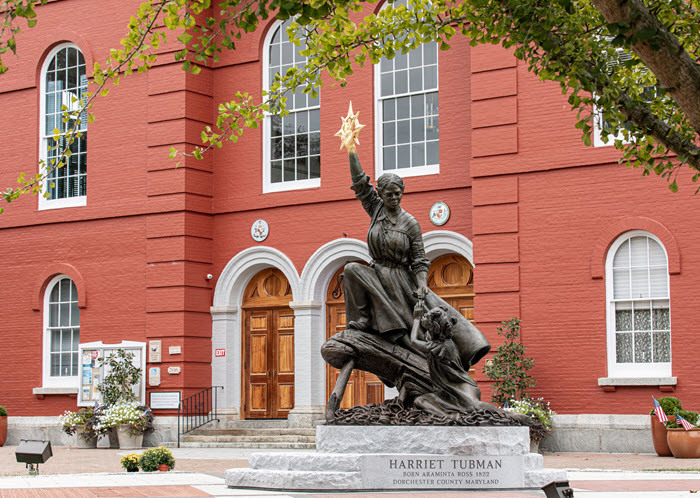 OUR THANKS
First and foremost, we want to publicly acknowledge and thank our supporters who secured their bricks during Phase One and Two. If you have not had a chance to see the statue and bricks up close, we strongly encourage it! It is magnificent!!
WHAT IS HARRIET'S JOURNEY HOME?
Harriet's Journey Home is a fundraiser for the Harriet Tubman Sculpture that was erected and is housed at the courthouse in her birthplace of Dorchester County, City of Cambridge, Maryland. This statue, "Beacon of Hope," is long overdue and in honor of the heroic sacrifices that Ms. Tubman made to free thousands of slaves as the "Conductor" of the Underground Railroad. The statue was unveiled on September 10, 2022 for Ms. Tubman's Bicentennial year.
PHASE THREE FUNDRAISING UNDERWAY AND ONGOING
Phase three of our brick fundraiser has been underway since August 2023 for the Harriet's Journey home "Beacon of Hope" statue that is now on display. We have successfully completed our phase one goal of filling one quadrant with personalized bricks. We are now working to fill the remaining 3 quadrants with your inscription legacy bricks!

Your support is still needed!
THE GOAL (BY THE NUMBERS)
We currently have a goal of 693 brick slots with the following breakdown:

598 4x8 Bricks at $200 and $300 - Price is based on placement and cannot be personally selected or requested.

60 8X8 Bricks at $500 and $1,000 - Price is based on placement and cannot be personally selected or requested.

35 8x8 Bricks at $2000 (Commercial Bricks Only) - These slots are reserved for businesses only. Price is based on placement and cannot be personally selected or requested. If we do not sell all of these slots, we will open these to everyone.

Please follow our social media accounts (@harrietsjourneyhome) for up-to-date information about the brick fundraiser. We want you to be be a part of the exciting #ROADTOTHEHARRIETGOAL
Brick Order Recommendations:
1. When placing your brick order, it is HIGHLY recommended that you get a certificate with it. Unfortunately, we CAN NOT order a certificate separately if you change your mind later.

2. It is helpful to put some kind of identifier on your brick vs. a generic message. (I.e. Thank You Harriet ~ S. Black vs. Thank You Harriet). This will help you easily identify your brick, especially if you do not order a certificate with it.

3. Please be mindful of the character limits. SPACES are counted as well.
Follow Us On the Journey Here
Facebook:

Harriets Journey Home
https://www.facebook.com/harrietsjourney2020
Thank you so much for your word of mouth efforts, your social media likes, and shares.
ALL BRICKS PURCHASED IN PHASE THREE WILL BE INSTALLED AUGUST 2024