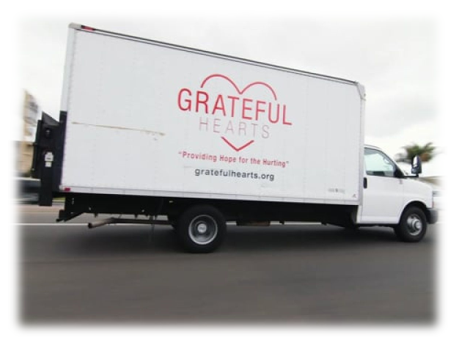 Grateful Hearts invites you to help create a lasting legacy at our Katella Avenue Headquarters in Los Alamitos, Ca. through our "Pathway to Hope" Brick Campaign.

The Red Brick Path leading to the entrance of our Food Distribution Headquarters will symbolize a lasting pathway of food security and stability for those who are in need of food, hygiene products, household necessities, and other emergency supplies.

For a donation of only $100 per brick, (or $250 for a larger 8x8 brick) you can inscribe your name, your company's name, commemorate a significant event in your life, or honor the memory of another on the brick pathways at Grateful Hearts.

Each 4" X 8" brick can be inscribed with up to three lines with 18 characters per line. Each 8"x8" brick can be inscribed with up to 6 lines with 18 characters per line. Each brick will be sandblasted in black Helvetica lettering as was recommended by Bricks r Us.

In addition, you may also order a donor certificate to display at your home or office.
A Brick of Hope would also make a great Legacy gift for friends, co-workers and/or relatives!

All profits generated will help support Grateful Hearts with its operating costs and programs.


Walk with us along the way…
Step by step, you can help improve the quality of life of our friends and neighbors who are struggling to make ends meet. Many must often make the difficult choice of whether to pay rent, buy medicine, or buy food for themselves and their families. These are the elderly, they are the working poor, they are mentally and/or physically ill, they are soldiers, they are veterans, many of them are children. They are our neighbors and they need our help.
See what's going on: https://vimeo.com/407165636.