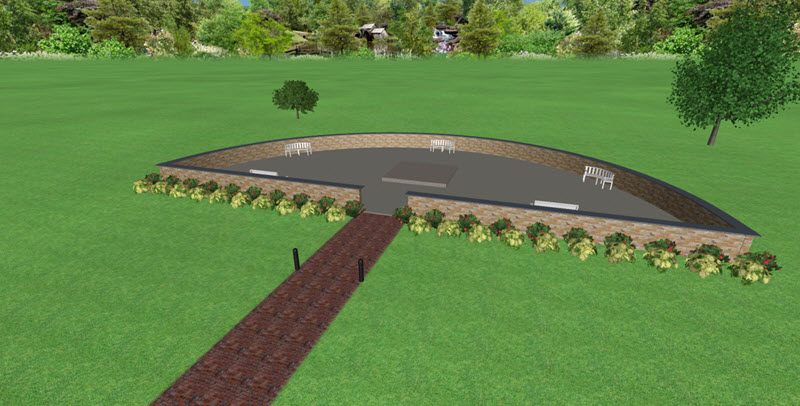 Gold Star Families are comprised of spouses, parents, children, siblings, and others whose family members died in service to our country. Gold Star Families are a vital part of the military community and receive the utmost honor and respect.

In honor of Gold Star Families across the country, the Borough of Hatboro is constructing a Gold Star Garden in Miller Meadow Park, 413 S. York Road, Hatboro, PA 19040.

Designed by Borough Council, Staff, and a group of dedicated volunteers, this Gold Star Garden will honor families whose loved ones paid the ultimate sacrifice to our country while also paying tribute to Veterans and those currently serving in our Military.

In order to accomplish this project, the Borough of Hatboro is selling engraved bricks and benches that will be used to construct the walkway of the Gold Star Garden.
Bricks are available for purchase for $100.00 each and can be engraved to honor loved ones who gave the ultimate sacrifice for our country, veterans of the armed forces, or even those currently serving.
The 4"x8" bricks will be used to construct a lit path leading up to the Gold Star Garden. Pavers can be dedicated to a Gold Star Family, Veteran, Current Service Member, or Military Organization. A sample brick inscription can be listed below:

In Honor Of
John M. Doe, US Army
1947-2006

Bricks can be customized however you would like and do not have to follow the above format. This only serves as a sample to inspire inscriptions for your loved ones.

The center of the garden will be adorned with the Fallen Soldier memorial statue to honor those our country has lost. The American Flag and Gold Star flag will be flown proudly above the garden with decorative lighting throughout the area to keep the memory of those who paid the ultimate sacrifice shining on.
All funds raised through brick sales will go directly towards the costs to construct the garden including materials, plantings, lighting, and more.

The Borough of Hatboro is a small town located in Montgomery County, Pennsylvania. Established in 1715, Hatboro is full of robust history. Its proximity to the Pennsylvania Turnpike, Philadelphia, and neighboring municipalities, our Borough is easily accessible to visitors. Our residents maintain an immense adoration for history and our country and this garden was developed throughout input from local residents/business owners.

Do I have to be a resident of Hatboro to contribute?:
No! You do not have to be a resident of the Borough of Hatboro to contribute to the Gold Star Garden! We welcome people across the country to contribute to this project and help us honor Gold Star families across the United States!

Can I purchase more than one brick?:
Yes! We welcome you to purchase as many bricks as you would like to honor friends, family and loved ones. You can also purchase a commemorative Souvenir Brick or Donor Certificate for any brick purchased.

How many benches are available for purchase?:
Currently, 5 benches are available for purchase honoring the 5 branches of the military (Army, Navy, Air Force, Marines, and Coast Guard). If you would like to purchase a bench, please contact the Borough of Hatboro directly for availability.

Can I donate extra funds towards the project?:
Donors are always welcomed to donate extra funds towards the project. This is always appreciated but never expected! We appreciate any and all funds contributed towards the garden.