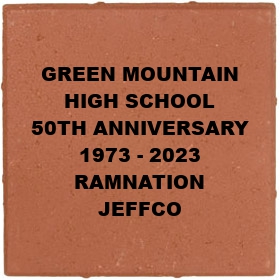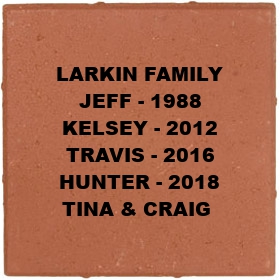 The GMHS Foundation is proud to honor the school's 50th anniversary with a brick walk installation.

This will be installed around the ram statue near the west side entrance to commemorate this exciting milestone for years to come.

Your personalized brick will become an important part of the GMHS campus and the RamNation story.

100% of the profits from each brick sale is a donation to the GMHS Foundation.

The Green Mountain High School Foundation invests the funds raised to make a direct, financial impact to support the educational needs and extracurricular endeavors of the school's 1100+ students, teachers, and staff. The Foundation is a registered 501c3 non-profit that acts as the parent organization to more than two dozen booster clubs that nurture the students' athletic, academic, and arts interests. Since its inception more than 15 years ago, the GMHS Foundation has invested more than $2 million at GMHS. In addition to twice annual RamOpps, mini grants for teachers, the Larkin Family Philanthropy Scholarship honors one students' volunteer work with a $1,000 college scholarship.

If you'd like to know about the 50th anniversary unGala and other events, sign up for our emails: bit.ly/GMHSemail

Thank you for your support! Go Rams!