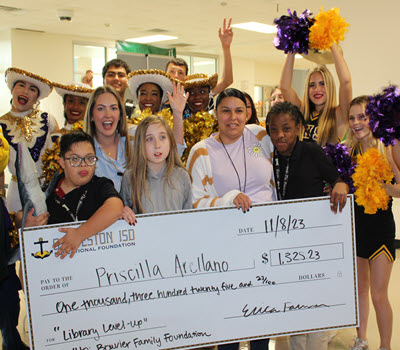 The Galveston ISD Education Foundation (GEF) invites you to buy an engraved brick and cement your legacy at Ball High School forever! As part of the brand new build, personalized bricks will be displayed permanently on the school grounds. Proceeds from the brick campaign will be used to fund GEF's Grants to Teachers & Schools program, which provides the necessary resources directly to educators to implement new ideas in the classroom.
We invite you to purchase a commemorative brick to honor someone special, recognize your family or business, remember a loved one or a special day, or show your support of a teacher.
Limited bricks available. Each 4x8" brick displays three lines of personalized text, 18 characters per line. Each 8x8" brick displays six lines of personalized text, 18 characters per line. Characters include spaces and punctuation. Brick text will be in all CAPITALS and centered on the brick. Installation is dependent on construction timelines.
GEF is a 501(c)(3) organization. All donations to the Foundation are tax deductible.