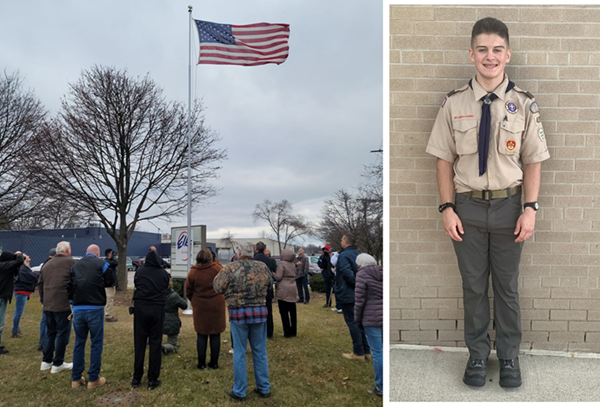 My name is Gage Ellis, and I am a Plymouth resident and Life Scout in Troop 499, working toward the rank of Eagle Scout. This is the fundraising site for my Eagle project, which will be constructed at the Plymouth-Ann Arbor Elks Lodge #325. My project consists of installing a flagpole, creating a patio area with engraved pavers and military service plaques, and installing a reflection bench. The fundraiser is an engraved brick program that you can personalize with a custom message of your choosing. Personalized bricks can be created with any message such as family name, Elks membership, immortalize the service of a living or deceased veteran, or to dedicate to an active-duty military member. Please note that all military logos are only available on 8x8 bricks. The bricks will be displayed in front of the Plymouth-Ann Arbor Elks Lodge, near the flagpole.

By contributing to the engraved brick project, you will support my not only my Eagle project, but also the Elks and their programs as well. All bricks purchased will be incorporated into the patio's construction and provide funds for materials needed. Upon completion of the project, any remaining funds will be donated to the Plymouth-Ann Arbor Elks. The Plymouth-Ann Arbor Elks Lodge is a benevolent organization that is dedicated to serving our communities and country.

Your generosity is much appreciated. Your purchase is not only helping a worthy cause, but you are also receiving a magnificent custom laser-engraved brick paver placed in the ground with your own words while making my Eagle Project a success and supporting the Elks.
Thank you very much!