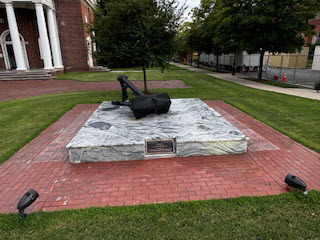 The Four Chaplains Memorial Foundation's Mission:
The mission of the Corporation is to encourage selfless service in the tradition of The Four Chaplains and to teach and promote interfaith understanding and cooperation among all peoples. Accordingly, the motto of the Corporation is "Unity without Uniformity".
Help us tell the story of the "Hero in Your Life" by purchasing a brick for our monument located on the grounds of the Chapel of Four Chaplains, Navy Yard, Philadelphia, PA. We call our monument the "Lost at Sea" Memorial since it fits the tradition of the 1942 Navy Chapel which houses our national headquarters. The monument literally honors, Sailors, Coast Guard Members and Merchant Marines who are lost at sea. Even so, we use this platform to honor other individuals or organizations that are "Heroes or an Anchor in our Lives."
Currently, the "Lost at Sea" Memorial is 80% complete. We would like to finish the monument this spring 2021. So, please join the hundreds of others by purchasing a brick in honor of your hero. We will host a ceremony in the spring 2021 – date and time to be announced. Spaces are limited so please order as soon as possible. Once the monument is complete, we will stop taking orders.