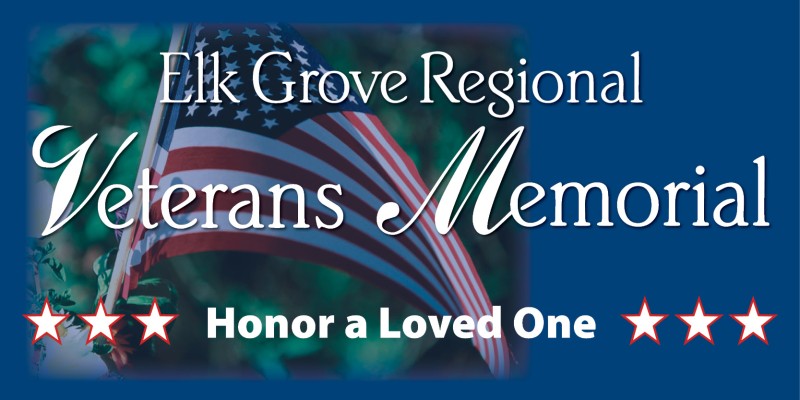 The Elk Grove Regional Veterans Memorial will be a place to honor and memorialize veterans who have given their lives defending this country and our freedom and those who are living and are proud of their service and sacrifice.
The memorial will be located in Elk Grove Park and will serve as a place of meditation and quiet reflection for veterans and their families and a place where visitors can come pay their respect to all veterans, both living and deceased. It will also provide a venue for Veterans Day events.
The Cosumnes Legacy Foundation has raised approximately $80,000 to fund Phase 1 of this project and needs approximately $500,000 more to build the memorial in its entirety. You can help fund future phases of the project by purchasing a personalized brick/paver or tile that will honor a veteran for years to come.
Pavers (available in two sizes – 4x8 and 8x8) will be installed in the entry walkway which leads to a symbolic bronze star plaza and flagpole. Black granite tiles (available in three sizes – 4x8, 8x8, and 12x12) will be mounted on a curvilinear concrete wall surrounding the plaza.
You have the option of including your military/branch logo on 8 x 8 Bricks & Tiles as well as 12x12 Tiles.
Do you have a veteran in your life? Do you have a family member, friend, coworker or neighbor that has served in the armed forces? Purchasing a brick paver or granite tile is a wonderful birthday, retirement, Father's/Mother's Day, or Veterans Day gift for a living veteran. Each can be personalized with your veteran's name, rank, dates served, logo of their military branch, etc. or a personal message.
You may also choose to purchase a donor certificate and/or a replica souvenir brick.
Your purchase and/or separate donation will help fund the cost to build the Veterans Memorial.
The Cosumnes Legacy Foundation is an independent 501(c)(3) corporation (Tax ID# 68-0385873). All donations are tax deductible.