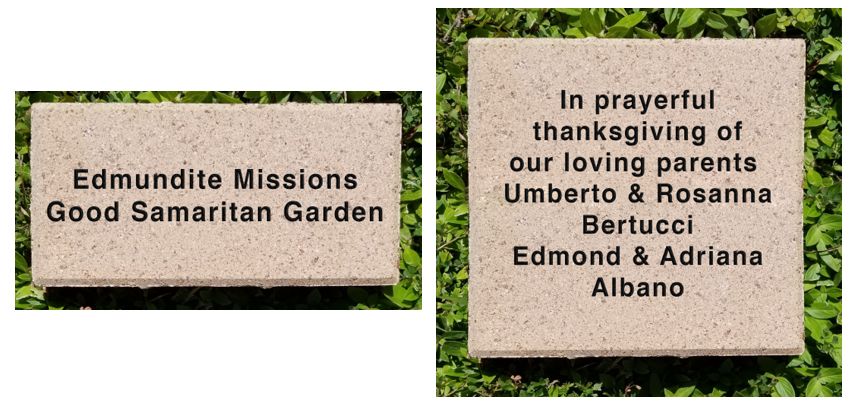 In prayerful celebration of the parable of the Good Samaritan and our response to Jesus' commandment to love and serve one another, we are pleased to introduce the Edmundite Missions Good Samaritan Garden, graced on the grounds of the new community center. In December of 1964, the Edmundites opened the Good Samaritan Hospital which served the city's African American population. In 1965, Good Samaritan won national praise for its treatment of the victims of the Civil Rights confrontation "Bloody Sunday". Although the hospital closed in 1983, the Edmundites continue to serve as Good Samaritans by providing to the ongoing needs of the community of Selma and the Deep South. This Garden will celebrate and continue this legacy of our Catholic faith in action.
The Good Samaritan Garden offers a serene and peaceful way to remember and honor those who had the most impact on our lives while supporting our vital ministries of serving the poor in the Deep South by providing food, shelter, and clothing as well as opportunities that reduce poverty and offer sustainable solutions.
Created to be a place of reflection and remembrance, we invite you to make a lasting impact on our missions while creating a lasting tribute and legacy to someone special in your life. The Edmundite Missions Good Samaritan Garden is also a beautiful way to honor someone by paying tribute in celebration of moments in our lives that have special meaning, such as a birthday, anniversary, mother's and father's day, and other special occasions.

Our commemorative bricks offer a simple and perpetual way to honor those who have enriched your life or have made a difference in the lives of others. Each brick can be inscribed with the name of the person you wish to honor or memorialize. Available in two sizes, your gift is 100% tax deductible. For special requests and/or brick arrays, please contact Alice Mims, Development and Stewardship Administrator, at 888-540-7722.