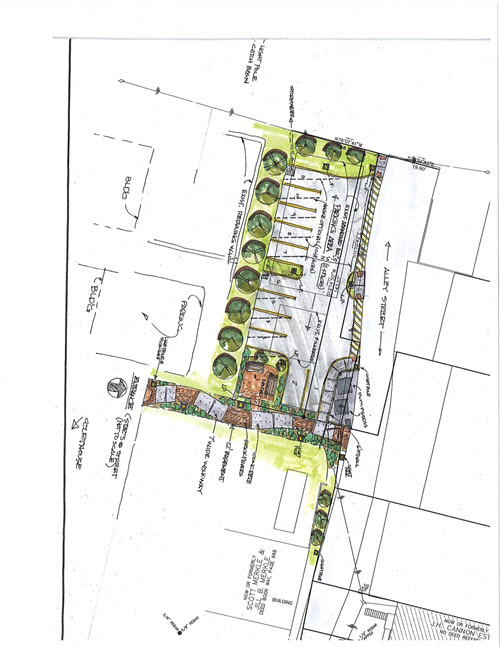 Rabun County is celebrating its 200th anniversary throughout 2019! As part of ongoing festivities, the City of Clayton and the Downtown Development Authority (DDA) would like to invite you to join your friends and neighbors in creating a permanent link to our future by purchasing commemorative bricks engraved with a personal message.

Commemorative bricks will be placed as part of the streetscape improvement project that will include the new Dickerson Bicentennial Park and pedestrian walkway located between Church Street and Wilson Alley in Downtown Clayton. Your participation will enhance the charm of our community while helping to beautify Downtown Clayton in a way that will shape our future and acknowledge our past.

**The names, dedications, and words you choose to engrave on this special part of history will become part of the City of Clayton and Rabun County's legacy for generations to come. We encourage you to honor and memorialize loved ones including your ancestors, pets, acknowledge your business, inscribe positive words of encouragement and help us ensure that we are creating an area filled with positivity and honor.

In the event that more bricks are sold than are needed for this initial project, the City of Clayton and Downtown Development Authority are working to develop a plan for a larger streetscape improvement project for Clayton with specific location details to follow. With your involvement and dedication, many will walk upon and enjoy the charm and beauty of the area for generations to come.

Hurry and purchase your commemorative bricks today! This will make a great, unique gift that will last lifetimes.

If you wish, you can also purchase a certificate and/or duplicate Brick to help remember your participation in this historic opportunity.


For more information email:

buyabrickcityofclayton@gmail.com

If you're paying by check, please mail your payment using the following information:

Downtown Development Authority
837 Hwy 76W, Suite 101
Clayton, GA 30525


**Inscriptions will be reviewed and monitored for spelling mistakes, profanities, vulgar or political statements. Donors will be notified if any content is questionable and will be asked to make modifications as necessary.