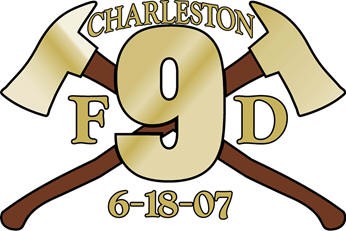 On June 18, 2007 the Charleston Fire Department lost 9 of its own in the Sofa Super Store Fire. This had been the single deadliest fire incident since 9/11 where immediately after, the families, Charleston Firefighters, Citizens, and the fire service mourned. The Charleston Fire Department would never be the same and committing to never allowing this to happen again, epic changes ensued and to this day continue. We also believe the fire service has changed because of the fire and we pray that it's never repeated.
According to The Post and Courier, On April 23, 2008 after 90 minutes of debate and objections to the cost voiced by several council members, Charleston City Council agreed to purchase the site for $1.85 million dollars. Mayor Riley called the site of the disastrous June 18th fire "sacred ground", and when it meant the most, our City Council stepped up in the face of opposition and did the right thing. The memorial site was constructed and markers were placed where each of the firefighters were found. Currently the site consists of the markers, a flag pole and shrubs.
The Charleston 9 will always be near and dear to the members of the Charleston Fire Department and the Citizens of Charleston. With your help, they'll know we haven't forgotten, they made the ultimate sacrifice.
Thank you for your support!
We are selling 4x8 bricks with 3 lines and 18 characters for $100, 8x8 bricks with 6 lines and 18 characters for $150. Additionally we are selling donor bricks and donor certificates.
*For more information, please visit our website www.fireandiron28.com