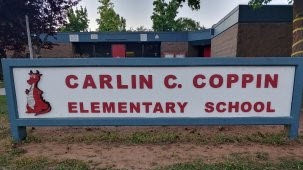 Sparky wants you to be a part of Carlin C. Coppin's history...buy a brick today! Leave your lasting legacy at the school for staff and families to enjoy for years to come by purchasing a brick for just $39! You can customize the brick with any three lines you'd like. Funds collected from the sales of the bricks will go toward hosting fun-filled family school events, purchasing much-needed school supplies, and helping to make our campus continue to be a beautiful and safe place for kids to learn. All bricks from this sale will be added to the bricks from the sale a few years ago to build a lasting display for students, staff, and future Dragon families.
Bricks make a great gift idea! Christmas will be here before you know it, so if you aren't sure what to get someone, buy a brick that will be enjoyed by Dragon staff, families, and children in the future! Bricks are an excellent 5th grade graduation memento for kids to leave their mark on the school where they got their educational start! If someone has a birthday soon, consider purchasing a brick that will help support the school and be a great gift as well! If you're lost on what to get your child's teacher or favorite staff member, there's no better gift than a brick to thank them and show your appreciation for what they do every day! If you're part of a multi-generational family of Dragons, show off your eternal Dragon pride by purchasing a legacy brick to support the school! Bricks are a great way to commemorate your child's years spent attending CCC! If you are a local business, bricks make for a great way to advertise your business and support our school at the same time! If you have lost a loved one or someone close to you, buying a legacy brick is a great way to remember them and show your Coppin support! The reasons for buying a personalized CCC brick are endless!
Purchase of a brick helps to support Carlin C. Coppin PTC, which is a 501(c)(3) organization. That means your donation may be eligible for a tax deduction. Please note no inappropriate or offensive content is permitted and Carlin C. Coppin administration reserves the right to approve or deny all brick names and/or messages. Thank you for being a part of CCC history and supporting our school!