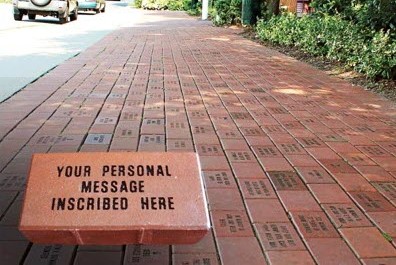 Paving the Way to Congregation B'nai Tikvah's Future

Be a part of cementing CBT's future by purchasing a brick that will be seen by all who enter our building. These professionally engraved bricks are available in a variety of sizes and will be a part of a new walkway as we welcome everyone into our community.

There are many reasons to secure your spot on the pathway to our future including:
• Establishing your name and/or your family's name for generations to come
• Celebrating the year you joined B'nai Tikvah,
• Recognizing all members of your family.
Make a permanent mark in the vibrant history of CBT and be a part of this new foundation ensuring CBT is on solid footing for years to come.

IMPORTANT ORDERING INFORMATION:
The souvenir brick is a copy of your laser engraved brick and is only available when purchasing any of the laser engraved bricks.
This is a great way to have a lasting memory of your legacy brick with you at home or work.

In honor of...
In memory of...
Bar/Bat Mitzvah of...(date)
25th anniversary of...(date)
Express gratitude to a teacher, friend, or group
Celebrate your family
Memorialize the year you joined BT
*THESE BRICKS ARE FOR PURCHASE BY ONE INDIVIDUAL/FAMILY
**THIS BRICK IS FOR PURCHASE BY TWO FAMILIES/INDIVIDUALS

Purchase of bricks may not be combined by any more than outlined above