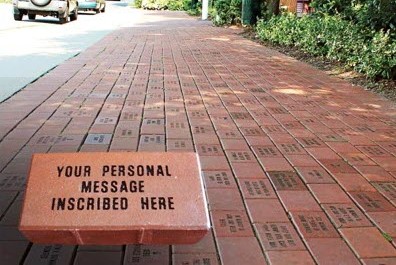 Welcome to Budding Hope Ministries' donor site!
The mission of Budding Hope Ministries is to provide survivor driven care in a safe, faith-based environment for anyone in our reach rescued from human trafficking younger than 16 years old.

"Restoring lives is the heart of our mission. Eradicating human trafficking is the end result we strive for".

The proceeds from your purchase will be used to serve our community through education, awareness, prevention of minor trafficking, and relationship building and for funding a safe house for victims of human trafficking younger than 16 years old.

These beautiful bricks will be used in our Garden of Hope entryway on our property for trafficking victims. This walkway will be the focal point of the garden as it makes its way through garden beds to the site of a wooden cross. A large brick area will also be incorporated into the center of the garden, which will serve as a site for worship in the garden, outdoor educational workshops, therapeutic counseling and more. The addition of bench seating will be installed along the walkway in the garden as funding allows in the future.

These beautiful bricks can be engraved with your own special message - a unique way to honor and remember, family, friends and those you love.