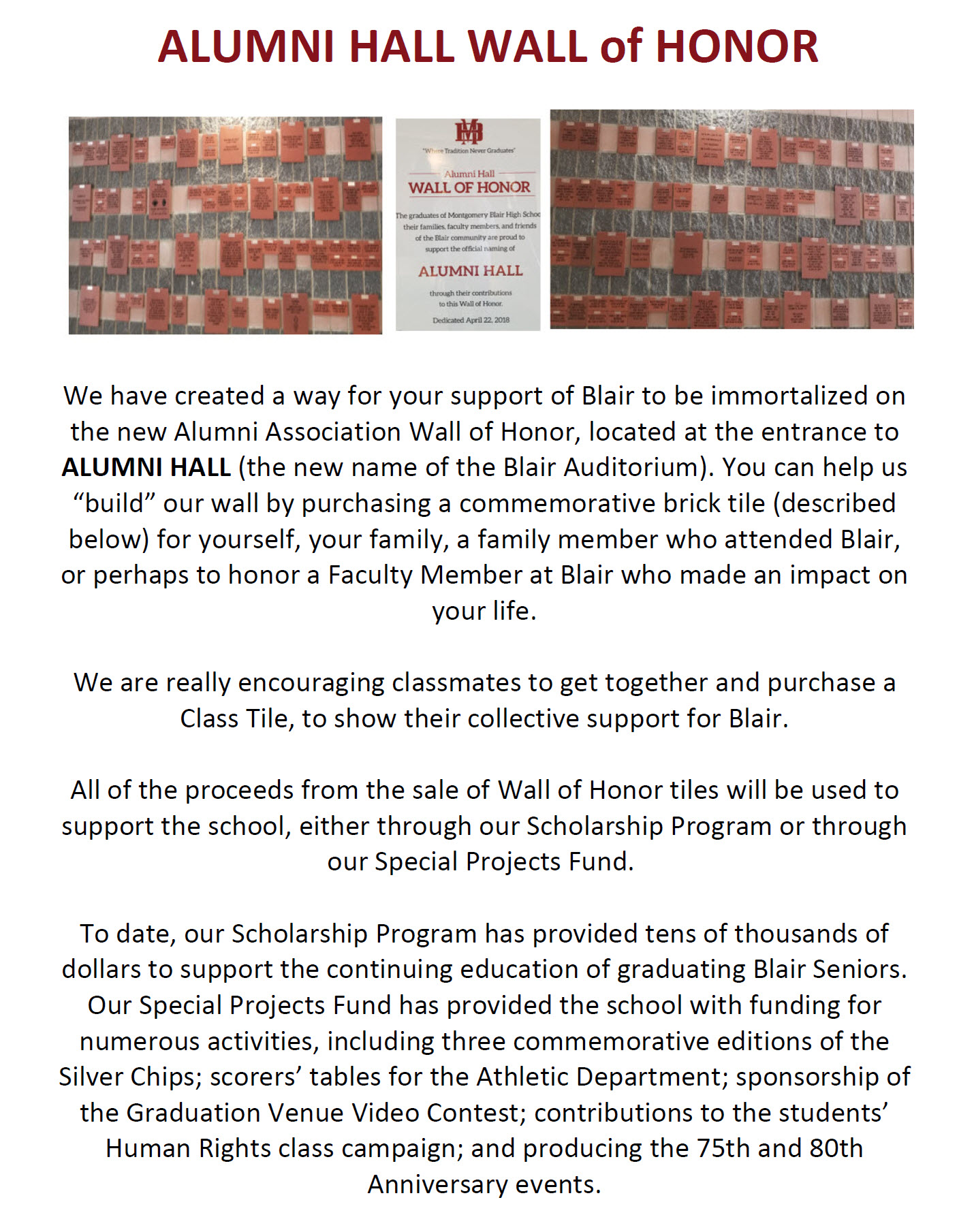 ALUMNI HALL WALL of HONOR

We are creating a way for your support of Blair to be immortalized on the new Alumni Association Wall of Honor, to be located at the entrance to ALUMNI HALL (the new name of the Blair Auditorium). You can help us "build" our wall by purchasing a commemorative brick tile (described below) for yourself, your family, a family member who attended Blair, or perhaps to honor a Faculty Member at Blair who made an impact on your life.

We are really encouraging classmates to get together and purchase a Class Tile, to show their collective support for Blair.

All of the proceeds from the sale of Wall of Honor tiles will be used to support the school, either through our Scholarship Program or through our Special Projects Fund.

To date, our Scholarship Program has provided tens of thousands of dollars to support the continuing education of graduating Blair Seniors. Our Special Projects Fund has provided the school with funding for numerous activities, including three commemorative editions of the Silver Chips; scorers' tables for the Athletic Department; sponsorship of the Graduation Venue Video Contest; contributions to the students' Human Rights class campaign; and producing the 75th and 80th Anniversary events.

Please help us get this newest Blair tradition off to a good start. While our Wall of Honor will be a permanent addition to the school, we urge you to purchase your tile today. In order to assure that your tile (or your Class Tile) is among the Inaugural Contributors whose tiles will be part of the ALUMNI HALL official dedication on April 22, you need to place your order no later than March 1, 2018.

Individual Tiles – for yourself or to honor a family member or other Blair graduate

Memorial Tiles – to honor a family member or Blair faculty member

Class Tiles - to show the ongoing appreciation of your Class for Blair's history and traditions, and to support the future of the school through the Alumni Association's Scholarship and Special Projects programs.

**Please note that in addition to your permanent recognition as an ALUMNI HALL contributor, all tile purchasers will receive lifetime membership in the Alumni Association.