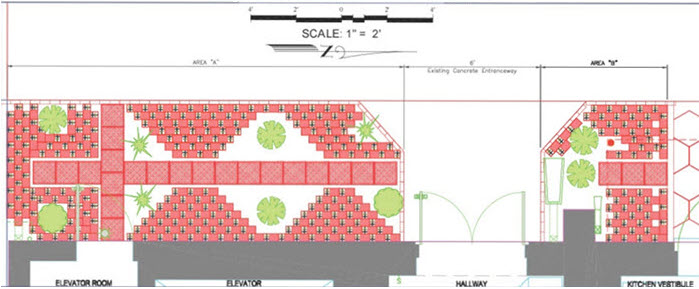 Historic Bethel African Methodist Episcopal Church
Memory Garden
"Every good gift and every perfect gift is from above, and cometh down from the Father of lights, with whom is no variableness, neither shadow of turning" James 1:17
The Doorkeepers for Christ of Historic Bethel AMEC invite family and friends to support the creation of our Historic Bethel Memory Garden that will be constructed on the 10th Street Side of our Church grounds.
It's our hope that this Memory Garden will be here for another 127 years and beyond.
We are excited to bring this project to our disciples, family, and friends, as we continue to beautify Historic Bethel, under the Leadership of Rev. Kenneth F. Irby. Proceeds from the sale will help our Media Ministry, tile the fellowship hall floor, security cameras and more.
You can order a brick for $35 each by check or ($36.54 via Paypal) without a logo
or $40 each by check or ($41.65 via Paypal) with a logo. Simply use the church Paypal account.
- Honoring a deceased loved one (In Memory of)
- Dedicating a brick to a living member (In Honor of Bro./Sis. for faithful Christian Service)
- Placing your favorite scripture on a brick Ex: John 3:16 (Donated by Bro./Sis.)
Each brick will contain a maximum of three or four lines of text.
You can also choose from three symbols or elect not to add one on the brick.
Church Website: https://historicbethelstpete.org/
Use all capital letters on each line.
Most importantly, this loving commemoration and legacy will last for years to come and support Bethel.
On behalf of the Historic Bethel Doorkeepers for Christ we thank you for your order and support.
Louis Brown Jr. Samuel Hemingway Jr. President Craig Swain
Annette Clark Darryl Hubbard Terry Swain
Robert Clark Karen Irby Lisa Thomas
Alicia Cotton Betty Smith Wanda Reed-Williams
Carrie Shirley