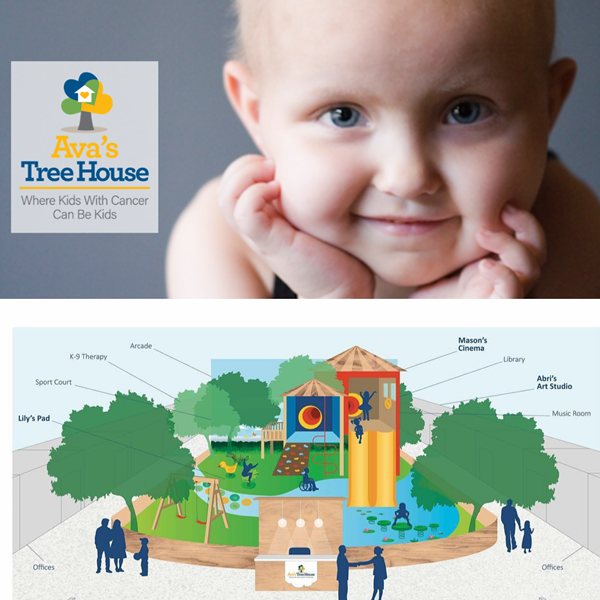 About our Brick by Brick Campaign
Since inception in 2013, Arizona Cancer Foundation for Children (ACFC) has met the needs of hundreds of children fighting for their lives. The organization's five specialized programs ensure families who are battling pediatric cancer receive the financial and emotional support they are in need of. An unfortunate reality for many children is they are forced to fight a battle underserving to them. ACFC ensures children receive tailored support to meet their individual needs not only to improve quality of life, but to ensure life can go on.
In September of 2018, ACFC launched the vision of Ava's Tree House, a Resource Center for children with cancer. When a child is diagnosed with cancer, the chance to experience an ordinary childhood is instantly stripped away. ACFC's vision is to raise the bar in pediatric cancer support and offer these children a place to experience a safe and advantageous childhood. By building a unique state-of-the-art facility ( the first of its kind in the United States) that caters specifically to the special needs of children with cancer and their families, ACFC will empower hundreds of families with a new sense of peace-of-mind and inspiration to live a better life. Ava's Tree House will offer children with cancer a chance to flourish with a wide range of services and amenities under one roof for the entire family. From diagnosis, through treatment, survivorship and end-of-life support, ACFC empowers families every step of the way.
This Brick by Brick campaign is an opportunity to make the dream of Ava's Tree House a reality. Our goal is to raise $750,000 to direct to purchasing a site to build Ava's Tree House. Make history, benefit children with cancer, help us build Ava's Tree House.