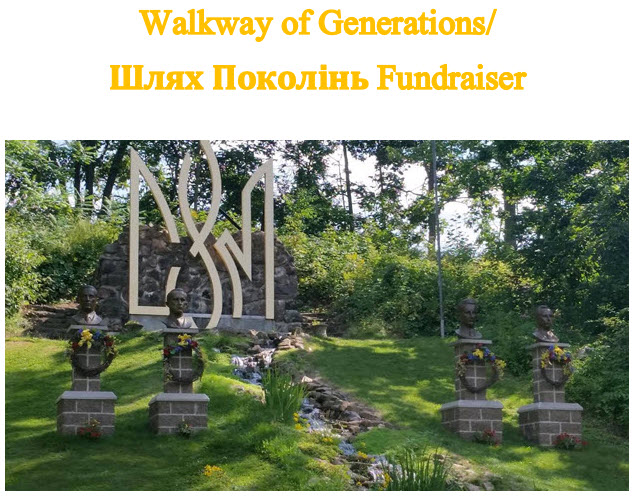 The American Ukrainian Youth Association was begun with the mission to nurture youth and membership in the principles of Christian ethics and pride in the Ukrainian national heritage. The AUYA offers multifaceted programs, including weekly youth group meetings, sports, musical and instrumental groups, arts and crafts, international experiences, special interest groups, a variety of cultural events, and summer and winter camps.
The Mykola Pavlushkov branch of the AUYA of Chicago invites you to show your support of its beautiful natural resource in Baraboo, Wisconsin at Oselya "Beskyd." Oselya "Beskyd" is a private piece of property where members of our organization are able to enjoy the magic of camping experiences, engage in sport competitions, socialize with peers, hike trails and forested areas, and further learn about our Ukrainian and Christian heritage. As a non-profit agency, the maintenance of our building in Chicago and property in Baraboo require countless volunteer hours and fundraising efforts to help ensure that members can continue to benefit from our programming. Just like most of the world, this year's pandemic, also took its toll on our revenue sources. And yet the pandemic did not slow down the will of our volunteers.
Show your support of Oselya "Beskyd" by purchasing a personalized brick. All purchases will establish a permanent brick path in front of the assembly field ("apelna ploshcha") that will symbolize generations of donors and supporters who have devoted time and dollars to maintain the beauty of this serene landscape that has reminded so many of their homeland, Ukraine. Represent your family, honor a friend or family member or memorialize someone special. This path will be named "Walkway of Generations" ("Шлях Поколінь") to symbolize the generations of patrons and volunteers, who laid the foundation for and helped to build this oselya 'brick by brick.'
Despite its gates being closed, the oselya has still required much maintenance throughout the year and is always in need of renovations. We have formulated a plan for future projects and it is our hope that funds generated for the "Walkway of Generations" ("Шлях Поколінь") will help offset some of the lost revenue from the closed 2020 season and allow us to maintain the splendor of our Oselya "Beskyd."
*All inscriptions in other languages or symbols need to be emailed directly to beskydbrickfund@gmail.com,
type "will email order" on text page that way you can make a payment.
We can only accept text in English through the site.*