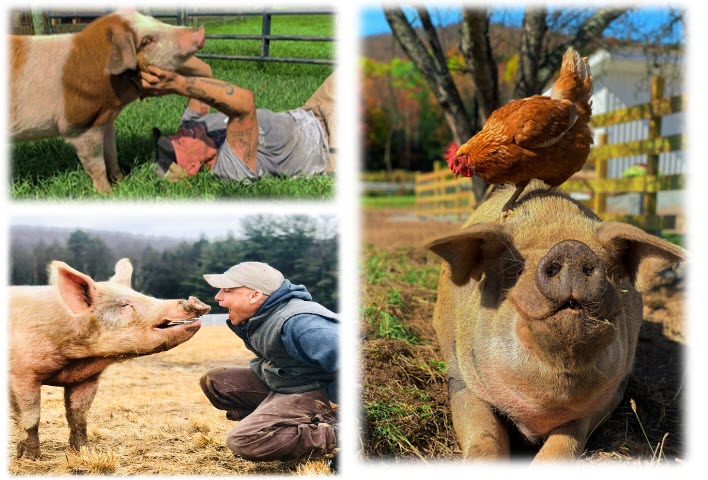 Unfortunately this past November Arthurs Acres suffered a tragic fire in which out newly renovated pig barn was completely destroyed.

We were very lucky that no residents were lost or suffered lasting injuries.

With the loss of the barn right now we have limited space to rescue anymore animals in need so we will be rebuilding a bigger and better barn with a medical center , isolation room and feed room as well as beautiful living quarters that will allow us to rescue many more animals in need.

We plan to have a walk way on the people side of the barn which will include the engraved bricks with your personal message on it for everyone to see.

We cannot thank you enough for your support,

Todd Friedman
Founder
Arthur's Acres Animal Sanctuary


How It All Began

On an uncomfortably hot afternoon in late summer of 2018, a friend and I arrived at the property to look at land for sale, hoping it would fit the bill to create a sanctuary.

Upon arrival, we found out from the agent that the property had been used as a small-scale "farm to table" type facility. Pigs, goats and other small animals had been raised and slaughtered right here on the property.
Like a real-time horror show, as he explained this to us, the property immediately showed its dark side. We began opening doors and came across remains of animals, decomposing birds, cutting tools and bone saws.
Blood stained walls and barricaded windows, letting in no light. The smell of death and urine was so strong in some areas, it was overwhelming.

A deep chill ran through me. So deep, I shuttered at the thought of its awful past.

The agent mentioned that there might be some animals still here, a pig maybe. I insisted we find him immediately.

That is when I met Arthur, a beautiful 3 1/2 month old piglet, who was locked in a holding pen with no fresh food or water, and no mother in sight. He came right to me, looking me in the face as if to ask my intentions. I knew it immediately, "I am not leaving without this pig." Once the agent realized I was completely serious, we negotiated with the owner to surrender him to me.

Then and there I knew this was the place. It felt as if all of the animals, past and present on this property, were calling to us in that moment and asking us to help them.
Arthur was their face, their voice. We knew we could do just that.
And so, the journey began.

Arthurs Acres now stands, no longer a negative place, but one with an abundance of love, kindness, positivity and compassion.

Arthur, who was the last pig to be threatened with death at this place, is the first pig to receive sanctuary here. The place where Arthur was meant to die young and afraid will be the place where he learns to live, to love, and be loved in return.
He will welcome new friends, he will be a teacher, he will grow old here, and finally, he will die in his own bed surrounded by people who love him.